The LoL MSI 2023 grand-finals took place on May 21, 2023. But while it was a very hyped match, it seems that most fans were not actually that interested and chose to do something other than watch MSI on their sunny Sunday.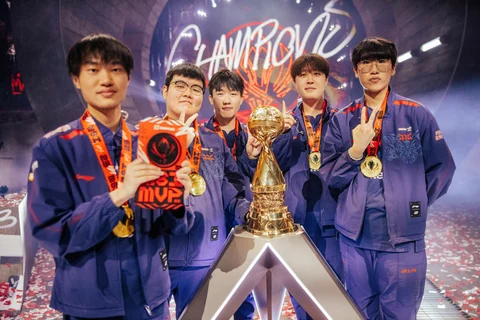 MSI 2023 has come to an end. The tournament has been a huge success thanks to the brand-new format Riot introduced ahead of the event, with multiple teams from the tier 1 regions competing to see who would be the best team in the world.
While the overall tournament was successful, the finals were rather disappointing in terms of viewership. Normally, the grand-finals are the most viewed and hype match ups, but this year fans seemed to forego the finals, with it not even landing in the top five most viewed games of MSI 2023.
LoL MSI 2023: Grand-Finals Viewership Experiences Huge Drop
The most viewed game at the 2023 League of Legends Mid-Season Invitational is none other than T1 vs JDG, which was the upper bracket finals. The winner would move onto the finals, while the loser had to face either BLG or Gen.G. With almost 2.3 million peak viewers this match also set a record for most viewed MSI game ever.
2.29M Peak Viewers on #MSI2023. @T1LoL l vs @JDGaming is the most popular match of the event. Grand Finals peak - 1.1M, @JDGaming vs @BilibiliGaming.

More stats:https://t.co/nU9VcoeU5r#LoL @lolesports pic.twitter.com/ny9OnFbgRb

— Esports Charts (@EsportsCharts) May 21, 2023
The lower bracket finals between T1 and BLG was the second most viewed game with almost 2.2 million peak viewers according to esports charts. The only regional match-up in the top five most viewed games was between T1 and Gen.G, while all other games were either LCK vs LPL or LCK vs LEC games.
Where does this leave the MSI 2023 grand-finals though? According to esports charts, who count viewership for all esports events, but do not take Chinese viewership into account, the grand-finals between BLG and JDG peaked at around 1.1 million viewers on May 21, 2023.
While both JDG and BLG are two very exciting teams to watch, especially with BLG defying all odds (which was also the theme of MSI 2023), fans couldn't overlook the fact that this was the fourth best of five series between the two teams in 2023. Viewers were sick and tired of the match up.
With JDG ending up on top the three previous times, most fans also had little hope for BLG, so they chose not to tune in. One Twitter user even explained that the LCK vs LPL games garnered much more attention on Chinese message boards and with Chinese viewers, adding a screenshot of the viewership numbers on the BiliBili streaming site.
So while MSI 2023 did break records, thanks to a much improved format, it wasn't enough for them to reach new heights in the grand-finals.
MSI 2023's Most Popular Team Was T1
The most popular team, in terms of viewership, was the LCK's second seed T1. T1 tends to always be one of the most popular teams, thanks to their insane dynasty from 2013 to 2017. In 2022 the team was also part of all top viewed games at MSI.
Now we will have to see what viewership records the 2023 League of Legends World Championship can break, especially with the brand-new format that will be introduced this year to add more best of series to international tournaments.
This article contains affiliate links which are marked with [shopping symbol]. These links can provide a small commission for us under certain conditions. This never affects the products price for you.