LNG Tarzan has been crowned our League of Legends Player of the Month thanks to his insane performance at the LPL Regional Qualifiers.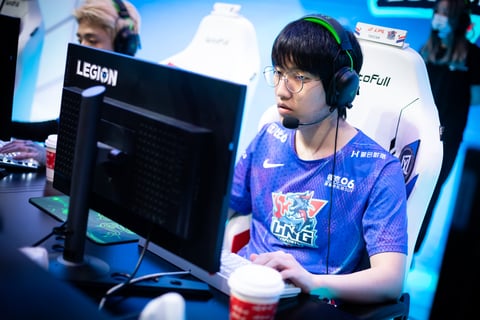 The LPL regional finals took place earlier this month and during the event, we saw just how much jungle pressure can influence a game. The former Griffin jungler had a stand-out performance and popped off, earning LNG a berth at this year's 2021 World Championship.
The choice was clear for the League of Legends player of the month for September. LNG had a breakout performance thanks to their jungler Lee "Tarzan" Seung-Yong. Tarzan earned himself 4 MVP awards throughout the regional qualifiers, so who else to pick than him, right?
More LoL Content:
Who is LNG Tarzan?
Lee "Tarzan" Seung-Yong started his career in Korea where he became known as an insane jungler on the young Griffin team. In 2019, along with mid laner Chovy and bot laner Viper, the team qualified for the 2019 World Championship in Europe. The team ended up facing iG in the Quarterfinals and lost.
Everything you need to know about LoL Patch 11.19 is right here on EarlyGame.
Amidst coaching and management controversies, Griffin disbanded and Tarzan found a new home in the LPL with LNG. In his first season in China, Tarzan struggled to find his footing, LNG ending in 16th and 13th place in the Spring and Summer split. They improved on those results in 2021 and have made it to the World Championship in Iceland.
Player of the Month Stats
LNG finished in eighth place and made it into the LPL playoffs where they went on a tear taking out Suning and Top Esports, as well as the MSI champions RNG. They faltered against FunPlus Phoenix, but their run was good enough for a berth at the LPL Regional Qualifiers where they managed to get second place and thus qualified as the fourth seed of the LPL.
Game Balance: 6W - 1L
Win Rate: 85.7%
KDA: 42.5
CS per Minute: 6.1
Kill Participation: 72.1%
Most Played Champions
Lee Sin (2 Games, 100% Win Rate)
Olaf (2 Games, 100% Win Rate)
Xin Zhao (1 Game, 100% Win Rate)
Why the Player of the Month Award for LNG Tarzan?
Tarzan was the most influential player on his team during the LPL regional qualifiers. With a kill participation of over 70% it goes to show just how important he was to LNG and for them to make it to the Worlds 2021 stage.
Also, with four MVP awards throughout the event, he has more than any other player, which once again shows that he was a key member of LNG and played a huge role in their Worlds 2021 berth.
We hope he can show another great performance during the 2021 World Championship set to start October 5th. Tarzan and LNG will face off against Hanwha Life Esports and Chovy – meeting his old Griffin teammate in the first game of the event.
The guides, the videos, the lore, it's all here! EarlyGame will help you become Challenger!