After a week full of underdog wins where Team BDS and SK Gaming both went undefeated, Team Vitality is alone at the top with a 5-1 record - but it's a lot closer than a lot of us expected. For several teams with high expectations like Fnatic, Excel Esports or KOI, this week was nothing short than disastrous.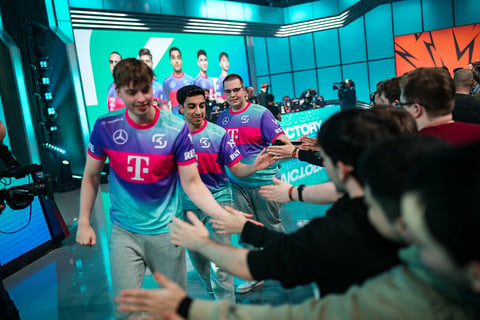 The opening week of the LEC ended with two teams - G2 Esports and Team Vitality - at the top of the table after a 3-0 start. Behind them, Rogue and the MAD Lions were waiting for their chance to strike while a lot of teams were left struggling around the rear end of the table. However, we saw glimpses of what those teams could do - even Team BDS and Astralis, who started their season 0-3. With only three superweeks to play a single round robin before the bottom two teams were knocked out, it would be a dramatic fight right to the finish. Here is what we saw in week 2:
BDS Upset Starts a Week of Underdog Wins
The week started more or less as expected, with a confident Team Vitality victory against an Astralis that hung in there for a while before being outmatched. Immediately afterwards, however, Team BDS served the first upset of the night, as the former Fnatic top laner Adam "Adam" Maanane led the charge against his previous team with a great Olaf performance. Immediately afterwards, Team Heretics fought a close game against KOI until jungler Marcin "Jankos" Jankowski secured the elder dragon to give his team the advantage to break the deadlock.
The surprises weren't done, however, and SK Gaming dropped the biggest one yet by ending G2 Esports' undefeated streak with a very impressive performance. Finally, MAD Lions ensured they would remain in the fight for the top by defeating Excel Esports - while the two teams were close early on, a big fight 22 minutes in resulted in MAD getting two kills and the Baron to run away with the game.

Team Vitality Falls to an Ascendent SK Gaming
While the Sunday games started with an expected Team BDS victory against an Astralis that once again had a good start before losing tempo as the game went on, the surprises were just beginning. SK Gaming would score their second big win of the weekend by defeating Team Vitality - and while the favorites made it close despite losing several fights, a big teamfight victory for SK 30 minutes in ensured they would take down another previously undefeated team.

Team Heretics might have hoped to follow their lead against G2 Esports, but the summer finalists were out for blood and they got it in a spectacular fashion. What started as an early gold lead bot for Steven "Hans Sama" Liv's Draven ended in an utter dismantling of Team Heretics and a sub-19 minute win as G2 just steamrolled their opponents. In the next game, Fnatic had a poor start against Excel Esports, but XL's mid-game issues reared their head again and what we considered a possible superteam lost yet another game. The day ended with a MAD Lions win against KOI, and while the series was close at first an early Baron secure marked the turning point of a very dominant mid-game for the Lions.
Vitality Wins Monday Clash with G2 Esports
After the loss to Fnatic, Excel's fortunes would go even lower after they suffered a loss to Astralis, the one team that had until then remained winless. Meanwhile, Team BDS made it a three for three with an unexpected win against MAD Lions, coming off another great performance by Adam and a draft that heavily punished the Lions' melee-centric composition. In the next game SK Gaming ensured that they would have an undefeated week of their own, punishing KOI in the bottom lane early and dominating the mid-game to end the week in with a very solid 4-2 record.
The evening continued with the hotly anticipated clash between G2 Esports and Team Vitality. After a poor 2022, this time Vitality's mid laner Luka "Perkz" Perković was in top form against his former team and alongside his jungler Zhou "Bo" Yang-Bo led the bees to victory. Finally, Team Heretics ensured we have one more upset to remember the game by, punishing Fnatic's draft and outplaying them in teamfights to end the week with a 3-3 score.
Read More:
The LEC continues this Saturday, February 4th, with the last superweek of the first stage of the winter split. With several teams fighting to escape the last two spots and elimination from the next phase, every victory will count!
This article contains affiliate links which are marked with [shopping symbol]. These links can provide a small commission for us under certain conditions. This never affects the products price for you.