Bjergsen has been confirmed as the new mid laner for Team Liquid. Has TL won the off-season?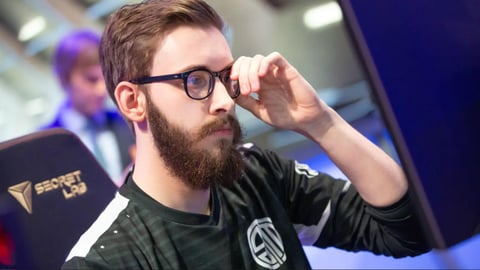 Team Liquid has started their rebuild. Their young ADC, Tactical, has left the org for TSM, so the ADC position is still open, but a few of the other slots have been filled already by prominent players of the League of Legends community.
So let's take a look at Team Liquid and which players have signed with one of the best North American orgs. Will they be able to win back-to-back-to-back-to-back LCS championships again starting in 2022?
Bjergsen with Team Liquid!
Oh no, some poor intern out there probably just got fired by Team Liquid.
A video has leaked which looks like it was supposed to be the welcome video for none other than Søren "Bjergsen" Bjerg. A few hours after the leak Team Liquid released their official statement, welcoming Bjergsen to the team!
Hans Sama Joins Team Liquid
Team Liquid just announced their newest ADC. With the departure of Tactical, the team needed a young and valuable bot laner, and they found just that in Hans Sama.
Hans Sama has been one of the best ADCs in the LEC over the last few years, showing great skill on Rogue, as well as Misfits before. In 2017, he managed to push SKT T1 to 5-games at the World Championship quarter-finals. So he's got the stuff to make Team Liquid great.
Bwipo Signs with Team Liquid
The newest signing for Team Liquid is none other than top laner Gabriël "Bwipo" Rau. The Belgian has played in both the top lane and jungle for Fnatic in the LEC, but he has decided to make the jump overseas and joined Team Liquid ahead of the 2022 season.
On Team Liquid, he will be playing in the top lane once again, a position he is most comfortable in and has played most of his professional career. Bwipo is also a very smart player and will be able to help lead the team in the coming season.

CoreJJ and Santorin Stay on Team Liquid
CoreJJ and Santorin have both re-signed with Team Liquid and will continue with the team in 2022. There were some concerns surrounding CoreJJ and his status ahead of the 2022 LCS season, but it seems like those worries are over, and the team will continue to have him on their roster.
Santorin showed great performances throughout 2021 and will continue to be an impactful jungler for the squad. With these two back on Team Liquid, the org is sure to be one of the contenders for the LCS title this year.
Rumors Surrounding Bjergsen
So if you've read all the way down here it seems like the rumors are no more and they've actually become a reality. TL Bjergsen leggo!
Rumors have stated that Bjergsen, who is set to return to pro play in 2022, will be the one to fill the mid lane role. So sadly, there won't be a Jensen return, but Bjergsen is one of the most decorated players in LCS history. With his acquisition, TL will have experience, youth and hopefully make NA proud in 2022.