At yesterday's Xbox and Bethesda Games Showcase, we got the official announcement of Riot Games' partnership with Microsoft, which Game Pass subscribers will be able to take advantage of later this year. Honestly, even if you play only one of the games made by Riot, it can be a great deal for you.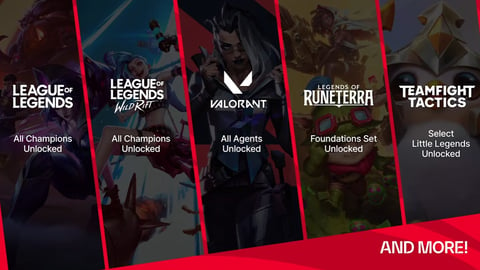 The Xbox & Bethesda Games Showcase turned out to be an exciting event not only for console players, but also for those who use mice and keyboards for their gaming sessions. We learned about an official collaboration between Riot Games and Microsoft, which will result in the addition of League of Legends, Wild Rift, Valorant, Legends of Runeterra and Teamfight Tactics to the Xbox Game Catalog.
We've always respected Xbox's relentless push to drive gaming forward, and we're proud to add our games to the Xbox catalog through Game Pass. We're also thrilled to welcome Xbox players into Riot's ecosystem of diverse and passionate gamers across the world. ~ Microsoft (source)
But that's not all! All these games will be a part of the Xbox Game catalog, every one of you can take advantage of it by subscribing to the Game Pass this winter.
In short, you will be able to unlock all characters for each game from Riot – the ones that already exist, and ones that are yet to be released. Sounds cool, right? Let's see how does that look in practice.
Riot x Xbox Game Pass: All Rewards
Here are all the Riot-related rewards you will be able to get by getting an Xbox Game Pass membership:
| | | |
| --- | --- | --- |
| Game | Rewards | Platforms |
| League of Legends | All Champions Unlocked | PC |
| League of Legends: Wild Rift | All Champions Unlocked | Mobile |
| Valorant | All Agents Unlocked | PC |
| Teamfight Tactics | Select Little Legends Unlocked | PC & Mobile |
| Legends of Runeterra | Foundations Set Unlocked | PC & Mobile |
On top of that, players will also receive a bonus XP across all these titles... and that's just a lot. Look, to get all this content, we think that it's a minimum of 1000 hours (41 days total) of pure grind, and you will be getting that (and a lot more) by just subscribing to Xbox Game Pass. Regardless if you are an avid player or just starting out, this deal is just great.
Now, we don't know the price and the exact release date of this collaboration; all we know is that it's coming somewhere this winter. Plus, all these goodies are probably not the end of this collaboration:
In the coming months, we'll share more about the partnership and how members can access the Game Pass content. For more information on Riot's biggest titles coming to Game Pass, stay tuned to riotgames.com and Xbox Wire. ~ Microsoft (source)
Hey, we don't want to throw conspiracy theories around, but to us, it kind of looks like a slow rollout of games from Riot to Xbox consoles. It's simply in the interest of both Microsoft and Riot Games; Xbox will win over PlayStation in yet another respect, and Riot will significantly grow its player base.

And what do you think? Will you be getting this Game Pass? Reach to us on our Discord and social media profiles like Instagram and Twitter, and let's have a chat.