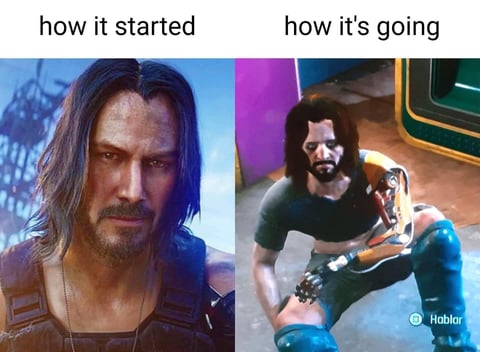 Cyberpunk 2077, also known as the meme of 2020 at this point, gave us some really good gems. You don't have to search for long on Twitter to find some of the funniest memes in all of 2020. We compiled a list of our favorite Cyberpunk 2077 memes for you.
There is a reason why Cyberpunk 2077 trended as Cyberbug 2077 on Twitter recently. The number of bugs this game has is absolutely insane and if you're wondering why you haven't encountered any: probably because your game crashed before you could.
Anyways, let's scratch on the surface of Cyberpunk 2077 memes that made me laugh so hard, I snorted out my coffee. You're welcome (for that image).
READ MORE:
Vi que pusieron este "meme" en mi TL y, no mamen. Como si la culpa la tuviera la gente por pedir que Cyberpunk sea lanzado cuando se prometio. La culpa la tiene CDPR por planear mal las cosas. pic.twitter.com/KmitOcJHpW

— dadpache (@zomwalruss) December 14, 2020
December 15, 2020
The Cyberpunk Clubbing Experience pic.twitter.com/5gqXBobFh0

— Neverthink Memes (@NeverthinkTV) December 15, 2020
Just got Cyberpunk 2077 pic.twitter.com/PMbxNxNg1X

— The Meme Factory (@_thememefactory) December 10, 2020
#Cyberpunk finally. pic.twitter.com/evtfQn2t58

— Meme Center (@MemeCenter) December 10, 2020
We really hope you liked these memes. If you did, why not let us know on our Social Media, like Twitter, Facebook, or Instagram? We'd love to do more like these on EarlyGame!