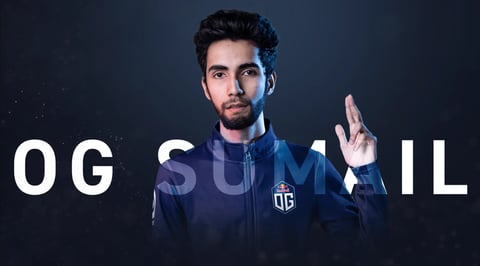 We've already witnessed the inception of the Chinese superstar lineup as 4AM entered the Dota 2 scene. Now, another star team might on the way and SumaiL is a part of it.
The last time we saw Syed Sumail "SumaiL" Hassan was in OG. After spending 6 months with the famous organization it was clear things weren't working out. SumaiL was released from OG and ever since then, he's a free agent. The global pandemic didn't help his situation as his former team, EG, were now out of NA and last competed in Europe. Now, according to the latest rumors, SumaiL will be joining some of the best VP players.
The Entire Virtus.pro Dota 2 Lineup Benched
The Russian bears have had a tough season and they've been lacking results in recent months. In fact, the whole lineup of Virtus.pro was benched. Many speculated that the organization would be making some serious changes to the team and we already have some clues.

According to rumors, the new lineup of VP will include three of their best players - Vladimir "No[o]ne" Minenko, Alexey "Solo" Berezin, and Roman "RAMZES666" Kushnarev. Solo and No[o]ne never left the team but they're currently inactive. Ramzes is part of Evil Geniuses but hasn't played with the team ever since the global pandemic broke out. Hm, we wonder what he has been doing in the meantime.

As the third year or @Headshoulders partnership with @ramzes kicks off, a new commercial is released to promote and exclusive esports SKU available in Russia only. Cool stuff! pic.twitter.com/YDVBfQkIOu

— Roman Dvoryankin (@dvoryrom) October 11, 2020
The legendary trio will be joined by no other than SumaiL. The fifth and final player is supposedly Danial "yamich" Lazebny. The young talent is currently playing for Winstrike Team but that might soon change. To top it all, there are also rumors of the team's coach, and it's a name we heard just recently - Bai "rOtK" Fan. The former Vici Gaming coach was stood up by 4AM and he announced he'll be taking a break from Dota 2. That might not be the case as Virtus.pro General Manager Roman Dvoryankin shared an interesting picture on Twitter:
Best wish, parni! pic.twitter.com/c6qwG7hi0n

— Roman Dvoryankin (@dvoryrom) October 11, 2020
Will the team come to life? There's a high chance as all the players we've listed except yamich are either inactive or looking for a team. In terms of positions it should be:
Roman "RAMZES666" Kushnarev (carry)
Syed Sumail "SumaiL" Hassan (mid)
Vladimir "No[o]ne" Minenko (offlaner)
Danial "yamich" Lazebny (support)
Alexey "Solo" Berezin (support)
Bai "rOtK" Fan (coach)
As far as we know the team might already be playing together but we won't be seeing them for at least a couple of months. Hopefully, that'll be enough time to take the Dota 2 scene by storm. There's just one big question - Will that be the new lineup of Virtus.pro or an entirely new team? After all, Dovryankin mentions he's representing a group of players and not Virtus.pro.

What do you think, is this the lineup you've been expecting? Share your opinion on our Facebook page!
Stay tuned for more Dota 2 news and check out EarlyGame or the EarlyGame Youtube channel for everything gaming and esports.