Many players are experiencing a problem with Rocket League where the game won't start. We take a look at what commonly causes Rocket League not to start, and take you through some easy solutions to fix the issue.
Are you insanely annoyed? Is your Rocket League not booting up, no matter how intensely you click on that little start-up shortcut? Are you frustrated? Tearing at your hair, desperate for your Rocket League fix? Well, don't you fear! In this article, we're going to show you some common issues that cause Rocket League not to start. On top of that, we provide a few tips which might help you get rid of this problem!

Rocket League Won't Start: Common Issues
Rocket League sadly has a plethora of bugs and error codes – so it might not be that easy to find the solution when your game just won't start. One aspect you should definitely check out first, though, is if your PC does meet Rocket League's minimum system requirements. Here they are:
| | |
| --- | --- |
| Supported OS | Windows 7 or newer |
| Hard Drive | 7 GB |
| Processor | 2.4 GHz Dual core |
| RAM | 2 GB |
| Video Card | NVIDIA GTX 260 or ATI 4850 |
Let's be honest, modern hardware should easily be able to run Rocket League. So, there probably is another reason. The list below mentions a number of them, which we will attempt to solve in the below section, which details how to fix the Rocket League won't start error.
Your Graphics Card driver is out of date and needs to be updated.
Errors on your Hard Disk Drive (HDD).
Incorrectly installed or corrupted update file.
Your game files are not verified, or your Overlay feature is causing troubles (on Steam).
Dodgy game files are causing the system to be confused, keeping it from launching.
Compatibility mode is causing you strife.
How To Fix Rocket League Won't Start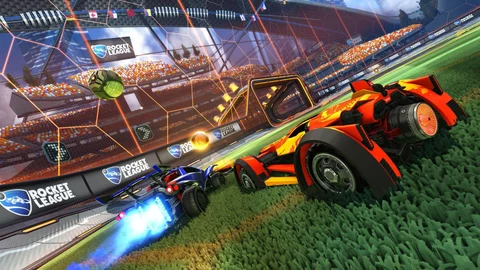 There are a couple of fixes that you can try out and that may solve your problems. Obviously, you don't have to give them all a shot – let's just hope that one of these tips works for you:
Try to launch Rocket League using the "Run As Administrator" option when you right-click on the launch file.
Verify the integrity of your game files (check for possible corrupt files, incorrectly installed updates, errors on your HDD). To do this:

Open your Steam Library and right click on Rocket League.
Select Properties, followed with Local Files > Verify Integrity of Game Cache.
Attempt to launch Rocket League again.
Additionally, try renaming your Rocket League files folder to "Rocket League Old" or something similar, this can trick the game into verifying.
If none of the above works, delete the file "d3d9.dll", this file sometimes gets put in the wrong folder, and will be reinstalled when you boot the game after deleting it.

Make sure everything is updated, including your graphics card driver, Rocket League, your operating system, and Steam.
Try running the game in a different compatibility mode.
Try disabling the overlay feature in Steam.
Try starting Rocket League via another game client like Epic Games.
If all these measures don't help, you still have the option to switch to another device (in case you have one, of course). Rocket League is available on consoles as well, so maybe the best solution is to play it on your PlayStation, Xbox or Nintendo Switch if it doesn't properly work on your PC.
Hopefully something in this long list of possible fixes will do the trick for you. It can be awfully annoying for players when Rocket League won't start, especially when a new season has just been released.