It's the end of the year and Rocket League players can look forward to Season 9! As always, this changes the entire theme of the game, updates the Rocket Pass, and gives us a brand-new battle car. Everything you need to know about the upcoming RL season as well as its release date... right here, right now.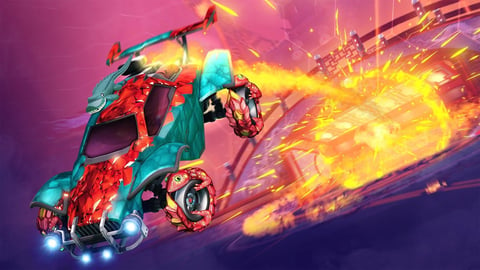 When one Rocket League season comes to an end, the next one is already right around the corner. After three months with Season 8 we all had about enough, it is indeed time for a breath of fresh air. The next season should bring exactly that... with a lot of exciting content in the form of Battle Cars, a new Rocket Pass and much more.
In this article, we'll go over all the important information. Of course, we're going to answer all of your questions regarding the release date of the new RL season. We also go into more detail on all the latest leaks and official info – what can we expect from Rocket League Season 9?
Rocket League Season 9 Official Release Date
The official release date of Rocket League Season 9 has been known for some time. The next and final season of the year starts on December 7th, 2022 and will make or break the gameplay for approx. three months.
Exactly when the new content is released in your region always depends on how well the RL servers can handle the update. We therefore recommend following RL_Status on Twitter for the latest news. Every time huge patches (like this one) get released, they will announce it in advance and give some extra input on how long the Rocket League servers could be down. Just be patient.

New Seasonal Theme Announced: Unleash The Elements
RL Season 9 won't be as glamorous as Season 7 and its theme is not reminiscent of Need for Speed ​​as in Season 8 either. Instead, it's all about two elements in particular – fire and ice. They are obviously quite opposite and that also reflects on the new seasonal battle car as well as the arena.
As always, Psyonix has also uploaded an announcement trailer to YouTube. With this, you can hype yourself up for the new season and get a first glimpse of what hot (or cold) content you can look forward to. Check out the video here:
Rocket Pass: New Tiers & Rewards
As always, one of the biggest changes will be the Rocket Pass, which will be updated with the launch of each new Rocket League Season. There will be a free Basic Pass again, as well as an enhanced Premium Rocket Pass – this one comes with additional tiers and rewards, but you have to purchase it using RL credits.

Emperor Muscle Car Introduced
As always, level 1 of the new Rocket Pass unlocks the seasonal Battle Car. In Season 9, you can get used to the Emperor Muscle Car – it even comes in four different versions that all look a bit different. In addition, there are of course other items with which you can further pimp your vehicle. Oh yeah... and its hitbox is Breakout, by the way.
Two New Stadiums: Forbidden Temple Fire & Ice
If you are interested in Rocket League lore, you should check out the background story on the official website. In any case, we will get two more arenas with the new RL season – or at least one arena with two different styles. Both the molten ​​lava one and the wasteland of permafrost look really good... Psyonix has always been excellent with this type of stuff.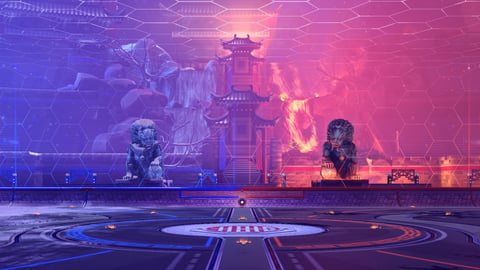 Ranked Season Gets Reset
In order to advance through the aforementioned tiers of the Rocket Pass and get those sweet rewards, you need to earn XP. You get them (obviously, duh) by playing one of the game modes in Rocket League. If casual gameplay isn't for you, try some ranked games against real opponents – you start your journey at the bottom of the list and climb your way up the leaderboard through wins and decent performances.

The higher you climb in the leaderboard, the better the rewards are. And the more you play, the higher you will climb in the Rocket Pass. From time to time, Psyonix brings back or debuts different LTMs or Double XP events. You shouldn't miss these – regardless of whether you're free-to-play or not.

Season 8 Ends – Claim Your Competitive Rewards Now
The grind in Rocket League Season 8 is slowly coming to an end. Don't move on too quickly, though, as there is one thing you should definitely do before the new content goes live in a few days: collect your Competitive Rewards! Depending on how far you climbed the ranks, exclusive rewards can be collected in-game. To be honest, they're not as exciting as the Rocket Pass, but you at least can flex your rank.
And with all of that, you are well-informed about the start of the next Rocket League Season. In the meantime, you should check out the latest patch notes that prepare our favorite socCar game for the launch of season 9.