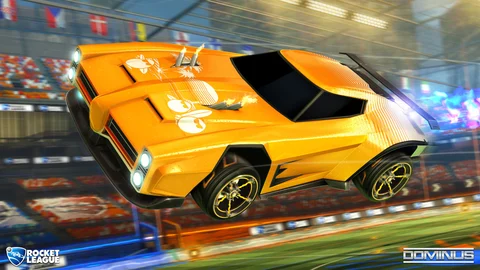 Let's take a look at the Dominus Hitbox in Rocket League. As one of the most popular hitboxes, players often want to know which cars feature a Dominus Hitbox. Thus, here are all the Rocket League cars that are like a Dominus. In other words, which Rocket League Cars have a Dominus Hitbox?
The Dominus Hitbox is one of the most popular in Rocket League. Its long body is perfect for not only ballet, but also last minute goal-saves, and some real aerial antics. Who doesn't like a Dominus Hitbox, hey? Pretty much no one, to be honest. What people often don't like, though, is the Dominus itself. Thus, we present you with all the other Rocket League vehicles that feature a Dominus Hitbox. You know, so you can be stylish and flexible at the same time! Oh, and we answer the question "Which Rocket League Cars are like the Dominus?" Interesting, interesting, interesting...
Rocket League is a pretty wild sport. Well, if you can call an Esport "wild". Anyway, here's the latest in Rocket League news. You know, because there's more to Rocket League than just the Dominus Hitbox cars. Let's dive in...
Which Rocket League Cars are like the Dominus?
Rocket League cars are all very similar, but if you want a Rocket League car that's like a Dominus, you want one that also features the classic Dominus Hitbox. That might sound obvious, but you asked the question, so we bloody-well answered. Most cars are still similar, however, especially vehicles that feature the Octane hitbox, despite the fact that they are shorter and stouter. If you want more details on what the Dominus Hitbox means for your favorite Rocket League vehicle, check out our Dominus Hitbox Guide.
Which Rocket League Cars Have a Dominus Hitbox?
'89 Batmobile
Aftershock
Chikara/Chikara G1/Chikara GXT
DeLorean
Diestro
Dominus
Dominus GT
Ecto-1 (Ghostbusters)
Fast and Furious Dodge Charger
Formula 1 2021
Gazella GT (Hot Wheels)
Guardian/Guardian G1/Guardian GXT
Hotshot
Ice Charger
Imperator DT5K.I.T.T. (Knight Rider)
Lamborghini Huracán STO
Masamune
Maverick/Maverick G1/Maverick GXT
McLaren 570S
MR11 (Hot Wheels)
NASCAR Chevrolet Camaro
NASCAR Ford Mustang
NASCAR Toyota Camry
Nemesis
Peregrine TT
Ripper
Ronin/Ronin G1/Ronin GXT
Samus' Gunship (Nintendo Exclusive)
Tyranno/Tyranno GXT
Werewolf
Well, there you have it, folks. A straight forward article, but a goodie none-the-less. Obviously if new Dominus Hitbox Rocket League Vehicles get released then we'll be right here to show them off to you, and we'll also update that long-ass list. In the meantime? It's time for us to boot up Rocket League, play for a couple of hours, and then – as usual – eat a pizza.
Read More:
Welcome to EarlyGame, your one-stop-shop for everything Esports and Gaming. Check out MyEarlyGame for an exclusive and customizable experience, and to become part of the EarlyGame family. Get engaged on Twitter and Facebook.