We always thought Raze and Killjoy were just good friends. But now a romantic relationship between the two has been confirmed by the official Valorant Twitter. And we love it!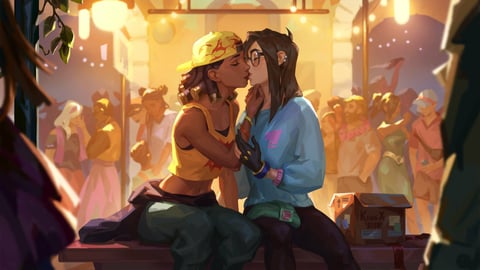 The official Valorant Twitter account has posted a picture of Raze and Killjoy kissing in the middle of a party and the news sites are rolling over as the community rejoices because there is finally an official romance in the game!
Raze and Killjoy are in a relationship!
For a long time the two girls have been shipped and so now the two are officially together. It's the first agent couple in Valorant and also the first lesbian couple. The whole story is reminiscent of League of Legends, where there are also already some LGBTQ+ relationships.
In fact, this sweet love story has been teased for quite some time now. We just didn't catch it. Besides some voicelines, there are many hints hidden in the official artwork of Valorant. I mean... Look for yourself:

raze couldn't stand seeing her girlfriend sad so she ordered killjoy her beanie and gave it to her IM GONNA FUCKING CRY??? #nanobomb pic.twitter.com/vsxdLVpe6G

— xy (@ohmyouimina) December 12, 2022
Yep, actually Killjoy got her favorite beanie as a gift from none other than Raze.

Of course, as always, there are a few idiots here and there on the internet who want to quit the game now because of Raze and Killjoy's romantic relationship. But honestly? It's better. Because we won't let them spoil the beautiful love relationship in our favorite game.
For more content: