The Warzone 2 St. Patrick's Day event introduced a rainbow to Al Mazrah, and at the end of that rainbow we can find a one-shot sniper! We explain how to get the new sniper.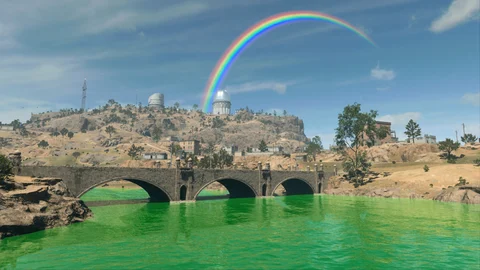 It's St. Patrick's Day and Activision is not only giving us some in-game cosmetics to celebrate it, but also thought of a fun little Warzone event. You know the tales about Leprechauns burying pots with gold at the end of rainbows, right. Well, the devs actually added a rainbow to the Battle Royale map Al Mazrah, and it holds a big surprise.
One-Shot Snipers Are Back In Warzone 2
To celebrate St. Patrick's Day Activision introduced rainbows to Warzone 2 and unlike in real life, it is actually possible to find the end of the rainbow. And yes, there is a huge surprise to be found, not a pot of gold, but a one-shot sniper.
St. Patrick's Day is here a little early. You never know what you might find at the end of the rainbow... but you've got "one-shot" to find out if luck is on your side in Al Mazrah

Now live in #Warzone2 pic.twitter.com/5r2rv5B7G1

— Infinity Ward (@InfinityWard) March 17, 2023
Sniper Rifles in Warzone 2 haven't been able to one-shot down fully plated enemies ever since launch. Even though, the community has been begging to bring back one-shot snipers, so far the devs didn't reintroduce them. Now it seems like Activision is slowly giving in to community feedback and at least wants to give it a try.
There's a one shot sniper at the end of the rainbow and as floor loot in Warzone 2 for St. Patrick's Day! pic.twitter.com/hN9itvU5la

— Call of Duty News (@WarzoneIntel) March 17, 2023
At the end of the rainbow, you can find a Victus XMR sniper with a gold and green skin, that can one-shot players on the upper torso. We don't know yet if this event will last for more than just one day and if the devs intend to keep the one-shot sniper in game, though. In our opinion, Activision is using the St. Patrick's Day event as a test run to gather data and figure out if one-shot snipers would be too overpowered or can still be balanced in Warzone 2.

Depending on how this works out, we could actually see one-shot snipers making a return in Warzone 2 in the near future. Since the sniper you can obtain right now is the Victus XMR, one of the heavier snipers, we suspect that only really heavy snipers like the MCPR or the Victus are intended to become one-shot.
Are you happy about the return of one-shot snipers? As long as it is only the really heavy and slow snipers that can one-shot down, we are fine with it. Just please don't bring back the quick-scope sniper meta from Warzone 1. I hated the Kar98k and the Swiss K31...
Have you heard of CoD 2023 yet?
This article contains affiliate links which are marked with [shopping symbol]. These links can provide a small commission for us under certain conditions. This never affects the products price for you.