Snipers can't one-shot enemies anymore, but they can still be worth using. One of the best currently is the MCPR. Here is the best MCPR-300 loadout for Warzone.

Snipers cannot one-shot a three-plated enemy in Warzone 2. This makes snipers far less popular nowadays. Still, they aren't completely useless, and especially in Resurgence you're often only fighting enemies with two plates in. So if you like using snipers, don't worry, you can still make them work.
The Victus is the best sniper for extreme long-range, and the SPX is the best sniper for short-range, but we find the MCPR-300 is the best all around sniper. Great for both Al Mazrah and Ashika Island. You can find the best loadout for the MCPR below.
The Best MCPR-300 Attachment Setup
| | | | |
| --- | --- | --- | --- |
| Slot | Attachment | How To Unlock | Attachment Tuning |
| Barrel | 22" OMX-456 | MCPR-300 to Level 11 | Aim Walking Speed (-0.50 lb) / Damage Range (+0.40 in) |
| Laser | SZ 1MW PEQ | SP-R 208 to Level 2 | Aim Walking Steadiness (+0.48 oz) / Aiming Idle Stability (+50.00 ft) |
| Stock | Cronun Lion Stock | MCPR-300 to Level 12 | Aim Down Sight (-4.00 oz) / Aiming Idle Stability (+2.40 in) |
| Magazine | 5 Round Mag | FTac Recon toLevel 3 | Default |
| Ammunition | .330 Mag High Velocity | MCPR-300 to Level 17 | Damage Range (+0.70 g) / Bullet Velocity (+9.00 gr) |
As you can see with the tuning, are goal with this build is to increase bullet velocity, damage range, and aiming idle stability. We aren't living in the age of the Kar98k or the Swiss K31 anymore; short-range sniping is much less of a thing in Warzone 2, and so we don't need increased aim down sight speed as much as we did in Warzone 1.
If you don't like the default optic then we recommend removing the stock first.
WZ 2.0 Victus-XMR Loadout: Secondary, Perks & Equipment
Secondary: Lachmann Sub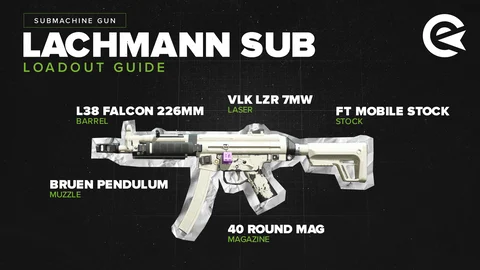 The Lachmann Sub is the absolute short-range meta since the Vanzev and the Fennec were both nerfed. It has great mobility, it's quite comfortable to use, and the TTK is outstanding up-close. Of course, the damage drop-off is quite punishing, but that's worth it to always win close-range gunfights (especially for Resurgence players).
Perks (Base, Bonus & Ultimate)
In Warzone 2 we can finally choose our own perks again:

| | |
| --- | --- |
| Base Perk | Overkill / Battle Hardened |
| Bonus Perk | Fast Hands |
| Ultimate Perk | High Alert |
High Alert is great when sniping because you'll often die to people sneaking up on you. Fast Hands is also particularly good for a sniper loadout because we absolutely need to change weapons quickly when we hear someone - it's not like with an AR or LMG, where you can stand at least a small chance against an SMG. And to round us out we went for Overkill and Battle Hardened, which are probably the best base perks right now.
Equipment (Lethal & Tacticals)
| | |
| --- | --- |
| Lethal | Drill Charge |
| Tactical | Flash Grenade |
The Drill Charge is just amazingly good fun, so we'll take that. Plus we can use it against vehicles (and thanks to the ridiculous speed at which you throw the Drill Charge it will probably hit). Then for a tactical we've gone for Flash grenades. Now in most Call of Duty games the stun is superior, but in MW2 and Warzone 2 the flash from this grenade is insane, and even more effective than the stun grenade.

So that's our recommendation for a good Warzone 2.0 sniper loadout. If you just hate snipers though, you can't go wrong with the Lachmann 556 right now.
This article contains affiliate links which are marked with [shopping symbol]. These links can provide a small commission for us under certain conditions. This never affects the products price for you.