Whilst the Type 100 deals reasonable damage at longer ranges, it requires a bit of modification to get it up-to-par. Here's our optimal setup guide for the Type 100 in Vanguard.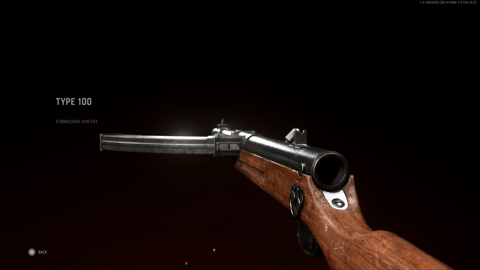 Call of Duty: Vanguard has launched with a ton of classic WWII guns, but for every gun, we have an astonishing amount of attachments to choose from. Seriously, Vanguard offers ten attachments slots per weapon! Where do you even begin? This is madness! Don't worry, we've got all the answers in our Vanguard weapon setup guides, And today: the Type 100.

The Type 100 is one of the weaker SMGs in Call of Duty: Vanguard, but it has a pretty reasonable range on it. This is certainly the worst SMG in the game, and requires a lot of attention to get right. Unlike other SMG's like the MP-40 or perhaps the M1928, the Type 100 is certainly not a weapon that's instantly easy to use. With such low damage, this needs to be the focus of any setup. Check out our tier ranking of every weapon in Vanguard for an idea of how well the Type 100 places. In the meantime, let's talk setup...

The Type 100 Attachment Setup
Muzzle: Strife Compensator
Barrel: Warubachi 134mm Rapid
Optic: Slate Reflector
Stock: Warubachi Skeletal
Underbarrel: M1941 Handstop
Magazine: 8mm Kurz 40 Round Mags
Ammo Type: Lengthened
Rear Grip: Stippled Grip
Proficiency: Vital
Kit: Fully Loaded
With ten attachments, we can do almost anything we want. With the Type 100, we're going for an increase in accuracy, firepower, and ammo. We are happy to take a bit of a hit in speed for this, especially since the ammo allows us an additional two magazines and an additional 10 rounds per magazine - neat, right? Honestly, the speed here is already pretty high so it's okay to take a hit for the benefit of these other components. The Slate Reflector optic is optimal, as we're not going for range in this setup, and we've included Vital to increase the area for critical hits, and Fully Loaded to increase reload speed and your maximum starting ammo.

The Equipment & Perks On An Type 100 Loadout
From what we've played so far, the meta loadout will look something like this:

Secondary Weapon: Panzerfaust
Lethal: Frag Grenade
Tactical: Stun Grenade
Perk 1: Ninja
Perk 2: Forward Intel
Perk 3: Demolition
Field Upgrade: Armor Plates
The above will almost certainly be the multiplayer meta for an Type loadout, unless they make serious balance changes. The Armor Plates in particular are in need of a nerf, but whether one comes... we'll have to wait and see. Generally, though, pairing the Frag and Stun grenades with an SMG is a good use of your Lethal and Tactical slots. Meanwhile, Ninja allows you to silently flank around enemies (great with an SMG), and this works together with the Forward Intel, which allows you to see their location before flanking. The extra Lethal provided by the Demolition gives you another tool to dispatch reinforcements, as does the Panzerfaust launcher.