Warzone 2 Season 3 introduced a new barter system to DMZ. But how can you craft backpacks three-plate vests, skeleton keys and more? We have all barter recipes for you.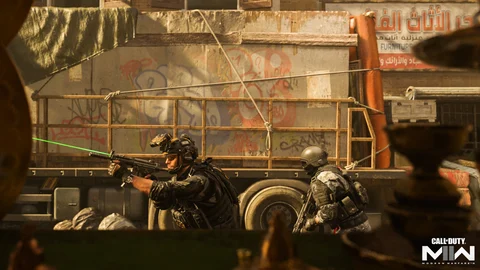 Warzone 2 and Modern Warfare 2 Season 3 not only introduced a bunch of new content for multiplayer and Battle Royale, but also brought a significant addition to DMZ. The new Barter system allows players to trade looted items for more useful equipment. So let's check out how to craft the new backpacks, three-plate vests, skeleton keys and more.
How The Barter System In DMZ Works

To access the barter system, players need to go to any Buy Station located on Al Mazrah or Ashika Island. Every Buy Station will offer the option to barter. By using the barter system, players can exchange specific items they looted on the map, to craft helpful equipment.

This means that looting specific items is now way more important than before the update. Up until now, most items could only be sold for cash, but now they have an actual use. Just grab everything you can find, maybe it is part of one of the barter recipes...

To use the barter system, follow these simple steps:

Head to any Buy Station in DMZ

Look for the newly added Barter tab

Click on the Barter tab to access the list of craftable items and recipes

Loot the specific items required in the recipes

Take the items to any Buy Station and select the respective items by exchanging the collected materials

Keep in mind that Buy Stations are even more important now and thus attract a lot of players. It's best to go in squads as other players may camp them for easy kills.
If you are currently playing DMZ and you want that little extra for your gaming experience, you might need a controller with additional features. Maybe give the Xbox Elite Series S Controller a try!
All Barter Recipes in DMZ
To make bartering as easy as possible for you, we collected all the barter recipes for you. Just have this list open on your second screen, so you always know which items you need to loot.
The following equipment can be crafted, if you have the necessary items:
Secure Backpack: 1 Electric Drill, 1 Gas Can, 1 Gold Skull

Three-plate Medic Vest: 3 Bandages, 1 Liquor, 1 Watch

Scavenger Backpack: 1 Battery, 1 Pack of Canned Foods, 2 Gun Cleaning Oils

Three-plate Stealth Vest: 2 Electrical Components, 1 Comic Book, 1 Game Console

Three-plate Comms Vest: 2 Hard Drives, 2 Batteries, 1 Soothing Hand Cream

Three-plate Tempered Vest: 1 Classified Documents, 1 Sensitive Documents, 2 Documents

Island Skeleton Key: 1 GPU

Sattiq Poppy Farmer House Key: 3 Radiation Blockers

Ashika Island Lost Room 403 Key: 4 Nuclear Fuel

Al-Safwa Crane Control Room: 6 Stronghold Keycards

Revive Pistol: 1 Bandage, 1 Soothing Hand Cream

Armor Box: 1 Electrical Tape, 1 Screwdriver, 1 C4

Durable Gas Mask: 2 Toothpaste, 1 Lighter

Munitions Box: 1 Imported Tea, $500 Cash

Radiation Blocker: 1 Blowtorch

Tactical Camera: 1 Car Battery
These are all currently available barter recipes in DMZ. Have you already taken advantage of the new system? Make sure to craft as much as possible, since it is the fastest method to get really good equipment for your active operator.
Have you tried the new one-shot sniper yet?
This article contains affiliate links which are marked with [shopping symbol]. These links can provide a small commission for us under certain conditions. This never affects the products price for you.