An image was shared on the main Warzone subreddit last night of the next map coming to Warzone 2: a smaller, resurgence-style map, which looks closer to Fortune's Keep than Rebirth Island. And we suspect the leak is accurate because Activision were actively DMCA'ing every re-upload of the image on Twitter.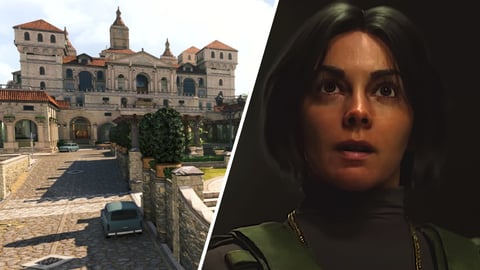 Warzone 2 has been out for a number of weeks, and there have definitely been teething problems, but there's also been a lot of positive aspects in the next-generation of CoD's BR. One thing they really nailed in the eyes of a great many fans, and even pros, is the map, Al Mazrah. But Al Mazrah is huge, and it doesn't offer Resurgence players the kind of close-quarters, fast-paced action they're looking for.
Thankfully, the Resurgence playerbase won't have to wait too long for a smaller map to be released. The new Warzone 2 map has just been leaked, and it's going to be about the same size as Fortune's Keep, and designed for Resurgence. Let's take a look.
New Warzone 2 Map Leaked
On the evening of November 5, 2022, someone uploaded a picture of the next Warzone 2.0 map to the main Warzone subreddit using a burner account. The image spread like wildfire on Twitter, but Activision were quick to react and begun DMCA'ing even the smallest accounts that were re-uploading the image. And it's precisely because of this reaction that we think the leak is real.
Here's a re-upload from a tiny account that Activision haven't found yet, courtesy of @Gameshowdaily:
Rebirth island Map leaked online warzone 2#rebirthisland #Rebirth #Warzone2 #CallofDutyWarzone2 #CallofDuty pic.twitter.com/ipXDxM0WU0

— Game Show (@Gameshowdaily) December 5, 2022
As you can see, it's clearly a Resurgence map, but the map also suggests it will be playable for DMZ and Ground War. This should make the new map a hugely popular addition to both Warzone 2 and Modern Warfare 2.
Based on the POIs we think it will be much closer to Fortune's Keep than Rebirth Island. Whereas Rebirth had a single tone and aesthetic, because it was all a prison, it looks like this new map will go down the FK path instead, and offer different looks and designs across the various POIs on the Island.
But when will it be released? We don't have a release date, but given how infrequently they produce new Warzone maps, we would be very surprised if we got the map before Season 3. Don't forget we still need to get through Season 2 first, which is going to have a Feudal-Japanese theme and will feature a remaster of the 6v6 map Castle, from CoD: WaW and Vanguard.
What do you think of the new Warzone 2 map? Are you happy with them doing something closer to Fortune's Keep? Or do you prefer the more one-dimensional theme of Rebirth Island?
And what about you DMZ players? Are you happy with a much smaller map, or is Al Mazrah perfect? We certainly enjoy it...
This article contains affiliate links which are marked with [shopping symbol]. These links can provide a small commission for us under certain conditions. This never affects the products price for you.