Erst seit November läuft Black Panther 2 in den Kinos und schon gibt es Neuigkeiten zu einem möglichen 3. Teil. Eine Hauptdarstellerin aus Wakanda Forever sorgt bei den Golden Globes für Vorfreude bei allen Marvel Fans.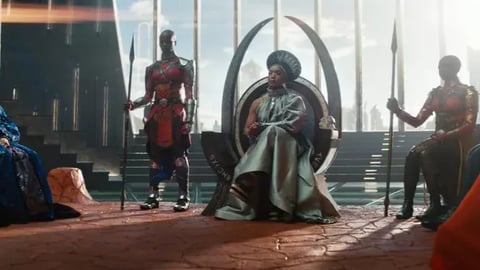 Ein guter Tag für alle Marvel Fans, aber speziell für alle Fans des Black Panther Franchise. Die Neuigkeit basiert auf einem Interview von Letitia Wright bei den Golden Globes.

Es wird einen Black Panther 3 Film geben
Laut Letitia Wright ist ein dritter Black Panther Film schon geplant. Wie sie in einem Interview bei den Golden Globes verriet, befindet sich der dritte Teil bereits in Entwicklung. Wir werden noch etwas warten müssen, aber das ist trotzdem eine ziemlich nice Nachricht.
Letitia Wright on plans for a #BlackPanther3: "I think it's already in the works...It's gonna take a while, but really excited for you guys to see that." #GoldenGlobes https://t.co/mPI0zz0SqB pic.twitter.com/hILe9CZP4B

— Variety (@Variety) January 11, 2023
Der Deal für Black Panther ist noch nicht abgeschlossen, aber es sieht so aus, als würde man bereits sehr ernsthaft daran arbeiten. Das macht auch durchaus Sinn, weil sowohl der erste als auch der zweite Film wirklich erfolgreich waren. Black Panther kam 2018 in die Kinos und spielte 1 Milliarde US-Dollar ein. Leider konnte Chadwick Boseman, der Black Panther, nicht am Erfolg des zweiten Teils teilhaben. Der US-amerikanische Schauspieler starb an den Folgen einer Dickdarm-Krebs-Erkrankung. Trotzdem war der zweite Teil, Black Panther: Wakanda Forever ein riesiger Erfolg. Seit November spielte er 830 Millionen US-Dollar weltweit ein. Das Drehbuch musste nach dem Tod von Boseman natürlich geändert werden.
Es sieht also so aus, als gäbe es einen dritten Black Panther. Wir werden uns allerdings noch ein wenig gedulden müssen. Bis dahin kannst du aber Black Panther: Wakanda Forever auf Disney+ rauf und runter streamen.