Beim diesjährigen LEC-Wintersplit hatte Fnatic nicht den besten Auftritt. Um in League of Legends wieder erfolgreicher zu werden, stehen intern nun einige Änderungen bei Fnatic an.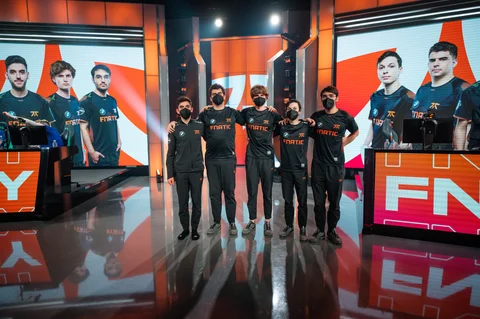 Fnatic hat im LEC Winter Split den schlechtesten Split in der gesamten Geschichte seiner Leistung auf der League of Legends-Bühne gespielt.
Die Schwarz-Orangen haben es nicht einmal in die Gruppenphase geschafft, für die sich die besten Acht qualifizieren.
Nach den erfolglosen Spielen des Teams waren Veränderungen bei Fnatic so gut wie sicher. Zunächst berichtete LEC Wooloo, dass Óscar "Oscarinin" Muñoz Jiménez und Henk "Advienne" Reijenga, die zuvor in der Akademie der Formation gespielt hatten, bei FNC einsteigen würden. Als neuen Trainer wollte Fnatic offenbar Fabian "GrabbZ" Lohmann einstellen, aber angeblich war er nicht an dem Angebot interessiert. Doch Fnatic hat nun prominenten Ersatz gefunden.
League of Legends: "Nightshare" wird neuer Fnatic-Trainer
Tomáš "Nightshare" Kněžínek wird das englische Team betreuen. Der Tscheche verbrachte den längsten Teil seiner Karriere bei eSub. Mit der legendären tschechischen Formation konnte er viermal die Hitpoint Masters gewinnen und nahm ebenso oft an den European Masters (dem Vorgänger der EMEA Masters) teil.
Im Jahr 2022 trainierte der 28-Jährige zunächst die Akademie der Immortals und dann den Hauptkader der Formation. Der Erfolg blieb jedoch aus, da er mit Immortals nur den neunten Platz in der League of Legends Championship Series erreichte. Es wird interessant sein zu sehen, wie der FNC in den nächsten Spielen unter einem neuen Trainer auftritt.
Die jüngsten Entwicklungen in League of Legends sorgten zuletzt für reichlich Ärger in der Community. Der gesamte Season-Start war eine regelrechte Katastrophe. Aktuell sorgen vor allem die Jungle-Anpassungen in LoL für großen Frust.

Sponsored by