Die LEC Finals finden dieses Jahr im sonnigen Süden Frankreichs statt! Welches Team bekommt den Titel als Nummer Eins der EMEA-Region?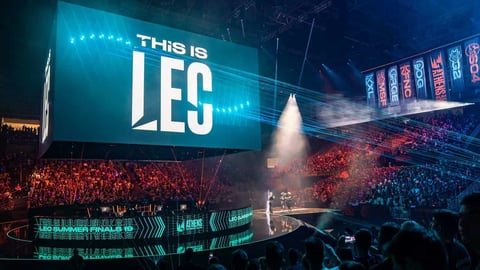 Die LEC hat ihr Format diese Season komplett überarbeitet. Daher gibt es auch nur ein großes Finale, das ganz am Ende stattfinden wird. Riot hat mittlerweile offenbart, wo dieses Event stattfinden wird. Jetzt heißt es nur noch abwarten, bis wir endlich wissen, welches LEC-Team aus der EMEA-Region an der League of Legends Weltmeisterschaft 2023 teilnehmen wird.
Die LEC Finals werden ein riesiges Fest werden. Der ultimative Höhepunkt einer hoffentlich spannenden Season 2023, bei dem sich die besten Teams der LEC Auge in Auge gegenüberstehen.
LEC Finals finden 2023 in Südfrankreich statt
Die Gastgeberstadt für die LEC Finals ist dieses Jahr Montpellier. Damit ist es das erste Mal seit 2017, dass ein LEC Event in Frankreich stattfindet. Damals hieß die LEC sogar noch EU LCS. Die Zeit fliegt, was?
Alberto Guerrero, der Head of Esports der EMEA-Region, sagte, dass es das größte Event im Kalender von Riot Esports EMEA sein wird, und dass sie sich alle darauf freuen, die LEC wieder in Frankreich zu sehen.

Da es in Frankreich eine so große und begeisterte LoL Esports-Fangemeinde gibt, freuen wir uns, unsere Roadshow zum ersten Mal seit 2017 wieder in das Land zu bringen und unser Hauptevent in Montpellier in der Region Occitanie auszurichten.
Mittlerweile ist die LEC wieder in vollem Gange, daher sind wir gespannt, welche Teams genug Championship Points sammeln, um am Ende der drei Splits in den LEC Finals zu stehen. Eins ist sicher – die Stimmung in Montpellier wird genial sein!

Mit dem Einkaufswagen-Symbol markierte Links sind sogenannte Affiliate-Links, über die wir unter bestimmten Umständen eine Provision erhalten. Für dich entstehen dabei keinerlei Mehrkosten.