Der League of Legends Client ist nicht gerade der beste. Das wissen wir alle, aber jetzt ist es sogar unmöglich, ihn zu starten! Woran könnte das liegen, und wie findet man heraus, warum der Client nicht funktioniert?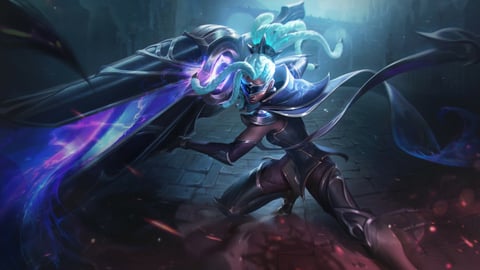 Der League of Legends Client ist alt und ziemlich fehleranfällig. Nun wurde Riot vor kurzem noch von einer Cyberattacke getroffen, bei der eine Menge Informationen abhanden gekommen sind. Dass nun auch der Client nicht mehr funktioniert, besorgt einige Fans.
Warum lädt der LoL Client nicht und wo bekommt man mehr Informationen von Riot über dieses Problem? Wir fassen alles zusammen, was wir darüber wissen.

LoL Client lädt aktuell nicht
Jeder, der aktuell versucht, sich mit seinem LoL Account einzuloggen, bekommt eine Fehlermeldung, da der Client nicht richtig lädt. Man kann sich zwar einloggen, aber danach wird man nur von einem schwarzen Bildschirm mit einem Ladesymbol in der Mitte begrüßt.
Riot hat bis dato noch keine Stellung dazu bezogen, also wissen wir auch nicht, aus welchem Grund der Client nicht funktioniert. Spieler haben aber auf der Seite Allestörungen.de bereits tausendfach Probleme mit dem Einloggen oder weiteren Features des LoL Client gemeldet. Bugs im LoL Client sind nichts Neues, aber das ist schon ein wenig heftig, oder?

@RiotSupportFR Bonjour, mon jeu (et aussi celui de mon ami) marche plus, si on lance le "Client Riot" il charge a l'infini et si on lance League Of Legends sa fait pareil aled j'ai besoin de ma dose svp pic.twitter.com/n1n7zXPcJS

— Nexis (@Nexis360_) January 24, 2023
Hier bekommt ihr Updates von Riot über den LoL Client
Wenn ihr auch herausfinden wollt, warum das passiert, und ob Riot sich der Situation bewusst ist, dann könnt ihr entweder auf der offiziellen Website von League of Legends nach Hilfe suchen, oder auf der Twitter-Page des Riot Support nachschauen.

Auf der offiziellen Webseite könnt ihr checken, ob es mit dem Server eurer Region gerade Probleme gibt. Riot hat bekanntgegeben, dass sie letzte Woche das Ziel einer Cyberattacke waren, weshalb auch der PBE-Build des Spiels nicht verfügbar war. Nun gibt auch der reguläre LoL Client den Geist auf.

Leider finden wir zum Zeitpunkt des Verfassens dieses Artikels auf den offiziellen Seiten keine Hinweise darauf, warum der Client nicht richtig funktioniert. Daher kann niemand sagen, wie das Problem behoben werden kann. Bleibt aber dran, wir halten euch auf dem Laufenden!