LoL Patch 12.12 wird drei Wochen lang aktuell sein, allerdings kriegen wir einen kleineren B-Patch in der Mitte, der einige Änderungen zurücksetzen wird.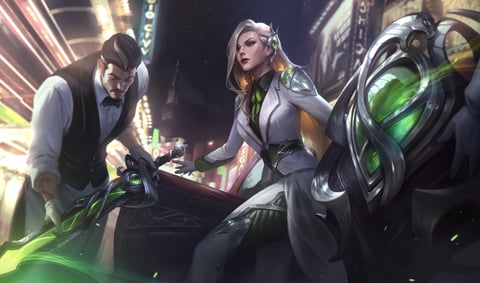 League of Legends Patch 12.12 wird ein drei Wochen Patch sein, das wurde offiziell auf der LoL-Seite bestätigt. Um diese lange Zeit überbrücken zu können, wird es einen kleineren B-Patch geben, der am 30.06 live gehen wird. Scheinbar ist ADC Seraphine doch Nerf würdig...
Einige Champions sind in 12.12 zu hart getroffen worden und dieser B-Patch soll das wiedergutmachen. Also, was ändert sich genau mit 12.12b? Hier sind alle Details.

Champion Änderungen in B-Patch 12.12b
Alle Champion Buffs in Patch 12.12b
Kommen wir zuerst zu den Buffs in 12.12b. Shaco und Katarina sind scheinbar nach ihren Veränderungen immer noch zu schwach und werden wieder ein paar Buffs erhalten. Hoffentlich werden sie nicht zu viel gebufft, denn es kann echt nervig sein gegen die beiden Champions zu spielen.

Champion
Buffs
Shaco
Passive: AD Ratio: 15% > 25%

Q AD Ratio: 40% > 50%

W Cooldown: 16s > 15s

W AP Ratio: 5% > 10%

Katarina
Passive: AP Ratio: 55% - 88% > 65% - 95%

Q Damage: 75 - 195 + 30% AP > 80 - 200 + 35% AP

R Damage on-hit Modifikator: 28% - 35% > 30% - 40%

R Physical Damage erhöht

Caitlyn
Passive Damage: 50-100% gesamt AD > 60-110% gesamt AD

W Bonus Headshot Damage: 60 - 240 (+40-120% Bonus AD) > 40 - 220 (+40-80% Bonus AD)

Leona
Passive Damage: 25+7/ Lvl > 32+8/ Lvl
Leona fühlt sich einfach etwas zu schwach an, was nach dem Durability Update als Tank eigentlich nicht der Fall sein sollte. Deswegen wird Riot sie mit ein paar Buffs versehen, ob sie dann wieder an die Spitze der Supports rückt, bleibt abzuwarten.

12.12b (Thursday) and 12.13. We're targeting non-burst buffs for burst oriented champs (which will increase burst some amount on account of snowballing a bit more). Gwen changes lower W, E uptime and hit R burst. Sivir changes aim to give her more moments of personal power. pic.twitter.com/G9BbtdjjYZ

— Matt Leung-Harrison (@RiotPhroxzon) June 29, 2022
Alle Champion Nerfs in Patch 12.12b
Die Liste der Nerfs ist viel länger als die der Buffs, das liegt vor allem an Champions wie Seraphine und Bel'Veth, die zurzeit einfach jedes Spiel dominieren. Aber wer bekommt noch einen Nerf in Patch 12.12b?

Champion
Nerfs
Bel'Veth
AD Wachstum: 2 > 1,7

Health Wachstum: 105 > 99

E Cooldown: 22-14 > 22-16

E Lifesteal: 20-26% > 20%

R Bonus Health Ratio: 165% Bonus AD > 120% bonus AD

Senna
Base Health: 560 > 530

Q Base Damage: 40-160 > 30-170

W Root Dauer: 1.25-2.25s > 1-2s

Tahm Kench
Passive Bonus Mage Damage Ratio: 4% Bonus Health > 3% Bonus Health

Health Wachstum: 109 > 103

Zeri
R Bonus MS: 1% > 0,5%
Wukong
E: 160% Schaden zu Monster > 120% Schaden zu Monester

R Cooldown: 120-90 > 130-90

Seraphine
Passive AP Ratio: 6-9% > 7%

E CC Dauer: 1.5s > 1.25s

Yuumi
Passive Bonus Reichweite: 50 > 0
Wer hätte es gedacht, Zeri ist schon wieder dabei. Ob sie nach diesen Nerfs immer noch spielbar sein wird? Schwer zu sagen, aber es scheint in diese Richtung zu gehen. Tahm hatte auch dringend einen Nerf nötig, vor allem weil er in der Bot Lane und in der Top Lane am Dominieren ist.

Wann kommt der B-Patch 12.12b?
Der B-Patch wird am 30.06 live gehen. Wenn du bis dahin noch Seraphine als ADC ausnutzen willst, dann musst du das wohl in den nächsten 2 Tagen tun. Eine andere Option, um LP zu farmen, wäre Bel'Veth im Jungle. Wir sind gespannt, wie diese Nerfs ankommen werden.
Patch 12.13 wird erst am 13.07. auf dem Rift landen, wo wir dann endlich die neuen Star Guardians Skins kriegen werden. Auch Nilah, der neue Bot-Laner, wird in 12.13 spielbar sein. Macht euch auf die Nilah-Meta bereit.

Sponsored by