Barbie is full of emotional moments, and it teaches us a lot along the way. The ending in particular tries to communicate an important message to the audience, but to some it remains a mystery. Here is an explanation of the ending, with director Greta Gerwig giving more insight into the thought behind it.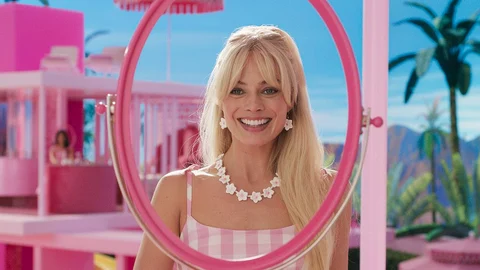 Over the last week, Barbie has taken over every cinema and crowds are swarming to watch it. But the movie isn't simply a celebration of everything Barbie. It also includes a lot of meaningful and emotionally serious scenes. The ending is especially like this, and it has generated a lot of discussion. Here's an explanation of the ending of Barbie for you, and the lessons I think it's trying to teach.
Stay stylish on the road with this cool Barbie tumbler!
Ending Of Barbie Explained: Emotional And Meaningful
Most people leave the cinema after watching the movie with a lot of thoughts swarming in their head, since Barbie's ending gives some very interesting lessons.
Let's start with the big one: Barbie herself. Margot Robbie's Barbie went on a journey of self discovery throughout the movie. At the end of it, she didn't feel like she still belonged in Barbieland due to her experiences of different emotions and life. This is an important factor, because it really validates all she has gone through and doesn't just fit her back into a mold she broke out of.
Now she is presented with a choice by the ghost of Ruth Handler, Barbie's creator. She can either go back or she can become a human. Before her decision, Ruth shows her, what it means to be a part of humanity with all the joy and sadness attached to it.
In the end, Barbie decides to take the leap, and she's now a part of the real world with a real body. This is further shown with the fun last line, though it might have more meaning than most thought.
Can't get enough of all the songs in Barbie? Get the soundtrack and jam all day!
At the end of the movie, we see human Barbie walks into an office building and say to a receptionist: "I'm here to see my gynecologist."
Director Greta Gerwig explained in an interview with USA Today exactly why this line is so important:
With this film, it was important for me that everything operated on at least two levels. I knew I wanted to end on a mic dropkind of joke, but I also find it very emotional. When I was a teenage girl, I remember growing up and being embarrassed about my body, and just feeling ashamed in a way that I couldn't even describe. It felt like everything had to be hidden.

And then to see Margot as Barbie, with this big old smile on her face, saying what she says at theend with such happiness and joy. I was like – if I can give girls that feeling of, 'Barbie does it, too' – that's both funny and emotional. There are so many things like that throughout the movie. It was always about looking for the levity and the heart.
Many women will feel very similarly to Gerwig, and it's really nice to see this represented so well. Often there's a lot of shame surrounding the female body, and we don't talk openly about it. Maybe the movie can help a lot of women feel more secure.
This is just an explanation of the ending, but there's a lot more hidden meaning in the Barbie movie to explore. I will definitely need to watch it multiple times to really see every facet of the movie.
This article contains affiliate links which are marked with [shopping symbol]. These links can provide a small commission for us under certain conditions. This never affects the products price for you.