A new film from Warner Bros has been announced: Barbie. It's going to be set in the same fictional toy-world as the film's namesake. And Margot Robbie and Ryan Gosling will take the parts of Barbie and Ken.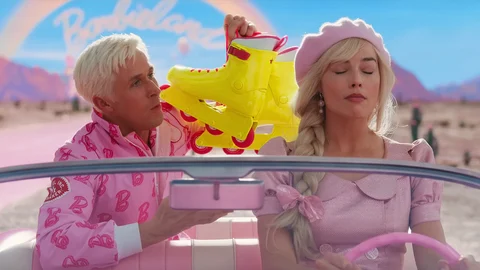 Here at EarlyGame we're usually caught up in the world of Marvel and DC, but all those superheroes combined couldn't hope to carry the same cultural weight as Barbie.

This was the toy, for generations. And while it certainly isn't as popular a brand these days (with so many parents opting for less gender-specific toys) Barbie remains iconic.

Especially with all the memes floating around, Barbie is now more relevant than ever, so here is everything you need to know about the Barbie movie, including a trailer, release date, cast, plot and more.

Barbie Movie Release Date | When Can We Expect Barbie To Hit Theaters
Barbie will be released on July 21, 2023. The movie is hitting theaters on the same day as Christopher Nolan's Oppenheimer, which has gotten both movies tangled up trough memes, as people want to see both movies on release.
Barbie Movie Trailer | What Can We Expect?
If you want a little sneak peek for the movie, the trailer is the way to go. Especially in the most recent one, we can catch a nice glimpse at the way they plan to present the ever pink world of Barbie for the live-action movie.
The trailer starts strong and consistently keeps up the dumb-fun humor that is perfect for this type of movie! If you weren't excited for the movie before, you probably are now.
What Is The Plot For The Barbie Movie?
Barbie is set up to be a rom-com that's set in the world of the titular toy doll.

Just looking at the trailer, it looks like the film will take a self-reflective, ironic look at the world of Barbie.

This won't be all, though, as the trailer also indicates that Barbie will leave behind her ever-pink life to make a run for the "real world" as she is fed up with only walking on her toes and always wearing pink!
The official synopsis reads: "A doll living in Barbieland is expelled for not being perfect enough and sets off on an adventure in the real world."

The Barbie Movie Cast: Who Will Be In The Movie?
Looking at the cast, we have a star ensemble led by the likes of Margot Robbie (Barbie) and Ryan Gosling (Ken) and directed by Academy Award nominee Greta Gerwig.
Just the Barbies alone have a crazy amount of celebrities like:
Emma Mackey as physicist Barbie
Dua Lipa as Mermaid Barbie
Ana Cruz Kayne as judge Barbie
Alexandra Shipp as writer Barbie
Sharon Rooney as lawyer Barbie
Nicola Coughlan as diplomat Barbie
Ritu Arya as journalist Barbie
Kate McKinnon as gymnast Barbie

Issa Rae as president Barbie
Hari Nef as doctor Barbie
Emerald Fennell as Midge
Then there's also the Kens, you definitely shouldn't just forget because the movie is called Barbie:
Ncuti Gatwa as Ken
Simu Liu as Ken
John Cena as Merman Ken
Michael Cera as Allan
Kingsley Ben-Adir as Ken
Scott Evans as Ken
We already established how Barbie ventures into the "real world" so there's obviously going to be some humans as well:
Helen Mirren as The Narrator
Will Ferrell as the Toy Company CEO
Jamie Demetriou as a Company Suit
Conor Swindells as a Company Intern
With this star ensemble and Greta Gerwig at the helm of the project, this movie can't really fail! Well, it can, but the trailer looks really promising, and the internet is already head over heals for the movie, so it probably won't!
The Origins Of Barbie
Barbie was created by a lady called Ruth Handler, the co-founder of Mattel, Inc. Handler noticed her daughter playing with paper dolls, pretending they were adults, which inspired her to create a 3D adult doll.

In 1959, Mattel introduced the first Barbie, named after Handler's daughter Barbara, at the American International Toy Fair in New York.

The doll was revolutionary, as it offered girls a toy that broke from the traditional 'baby doll' norm and represented a grown-up figure they could aspire to be.
Since then, Barbie has turned into the most iconic and successful doll on the market, with multiple TV shows, movies she has been the reason for an empire that now has found its way into live-action as well.
Developers and directors really be doing everything they can sometimes to please their fans:
This article contains affiliate links which are marked with [shopping symbol]. These links can provide a small commission for us under certain conditions. This never affects the products price for you.