The Last of Us star Ashley Johnson reported her ex-boyfriend for domestic violence, filing a restraining order against him.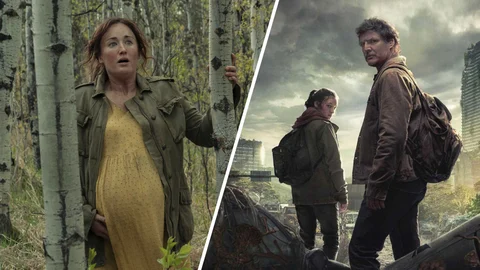 The Last of Us introduced us to a bleak world where a lot of shitty people take advantage of others. People like this are not mere fiction, though, as was recently shown by The Last of Us star Ashley Johnson, who is filing a restraining order against her ex-boyfriend Brian Wayne Foster, following his alleged abuse.
Ashley Johnson is a highly acclaimed voice actress, recognized for her extraordinary work in video games and animated series. One of her most memorable characters was Ellie in "The Last of Us". She was also part of the live-action adaptation of the game produced by HBO, proving that she can not only act with her voice.
Oh, and not to forget, Ashley Johnson is also a beloved member of the popular Dungeons & Dragons show Critical Role, which had one of their campaigns adapted into an animated series by Amazon.

Ashley Johnson Files Restraining Order Against Ex-Partner
Sadly, it is not all rainbows and sunshine for the successful voice actress. Far from it, to be honest, as she allegedly had to endure years of abuse at the hands of her former boyfriend Brian Wayne Foster.
This was first reported by The Blast, detailing how Johnson believes her ex to be "close to the edge, has the ability to murder, and will cause harm".

Foster apparently has a history of verbally abusing the voice actress, as well as a narcotics' addiction which, she claims, lead to an "unhinged mind".
While describing the abuse, Johnson describes how unhinged exactly Forest has become, detailing how she and family members "have been the subject of his outbursts, drug use, threats, and sexual assaults."

After trying to separate for over 2 years, Johnson was finally able to end the relationship in March. Apparently the two of them had an argument weeks after the relationship ended, which lead to her filing a restraining order against Foster.
What is very concerning is that Foster violated this restraining order by temporarily blocking Johnson's access to the security cameras around her house, showing no signs of respecting her boundaries.
It looks like the situation has not yet been resolved, as there will be a hearing discussing further additions to the already existing restraining order.
If you are suffering from domestic abuse or know somebody that does, you can always get help! TheHotline.org offers a lot of useful information as well as ways to make people aware of your situation. It also helps you recognize abuse cases and make plans for your own safety.