MrBeast has actually gone and done it: He hosted a Real Life Squid Game with over 400 participants. And it was insane. Take a look here at what happened at the event.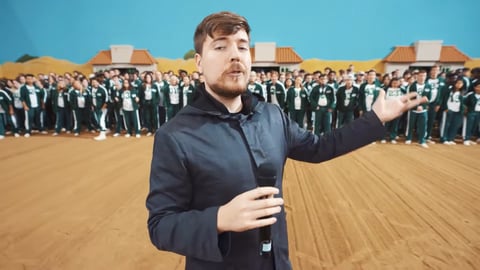 We all love Squid Game. Literally everyone and their mom watched the hit show from South Korea on Netflix recently. It was such a huge hit, that it wasn't the biggest surprised that someone wanted to turn it into a real life show. And MrBeast announced exactly that last month.
When he confirmed that this would actually happen earlier this month, MrBeast promised fans a full-scale recreation of the Netflix cultural phenomenon. As we all know, MrBeast likes to talk a big game. But he also does deliver. So we all waited for the Real Life Squid Game to happen and to see, if it could live up to the hype. And I would say it definitely did...

MrBeast's Real Life Squid Game Was Totally Insane
It was honestly really cool and totally insane. MrBeast recreated almost all of the most iconic challenges and sets from Squid Game and sent 456 contestants through the hellish maze. And they are playing for hard cash as well, $456.000 were in the price pool. The contest was published on November 24 on MrBeast's YouTube channel and you can see the whole thing right here:
Big ups to MrBeast here. Him and his team did a sensational job in replicating all the whacky stuff from Squid Game. It started with the classic "Red Light, Green Light" game and this version even had a replica of the big, creepy doll from the show. And similar to the events at the show, a lot of people got merked – over 200 contestants already failed the first round.
The crazy spectacle didn't end there. Over the course of 25 minutes, MrBeast shows impressive replicas of all the Squid Game highlights: the barracks, honeycomb, tug of war and so on. Just the finale is a bit different in this one. And also nobody actually died...
At the time of writing, MrBeast's Real Life Squid Game already got a whopping 36 MILLION VIEWS! What the... An incredible hit and we understand why. This was fun as heck to watch and just a very impressive showcase of what content creators like Mr. Beast can do with their infinite wealth. If you can't wait for the eventual release of Squid Game season 2, definitely shorten the wait and check this real life version out!