Popular YouTubers Jacksepticeye and MrBeast have butted heads over "insanely discrespectful" comments after a viral clip of Jacksepticeye regarding good ol' Jimmy about how he "ruined YouTube."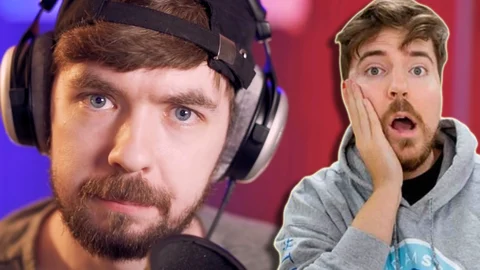 Jimmy "MrBeast" Donaldson and Sean "Jacksepticeye" McLoughlin of all people having drama with each other was not something most people expected. Still, that's exactly what happened. After Jack guest starred in Tom Simons' latest video and took a lie detector test, people went crazy about what Jack had to say.
Jack was asked a few questions about MrBeast, beginning with Tom inquiring if he even liked Jimmy and his answer was a nonchalant "No". After being asked the pointed question "Do you think MrBeast ruined YouTube?", Jack apparently wanted to watch the world burn and answered "Yes."
Jack explained that he thinks YouTube became more about popularity and money – which is basically the MrBeast essence.
"This Clip Is Insanely Disrespectful" – Mr. Best Speaks Up Against Jacksepticeye
With the clip going viral, it was only a matter of time until it reached MrBeast, and he didn't take it that well: In a (since deleted) response of his own, he defended himself and his content, claiming he was inspiring kids to help people and still had fun doing the videos (even though he was working himself into the ground.)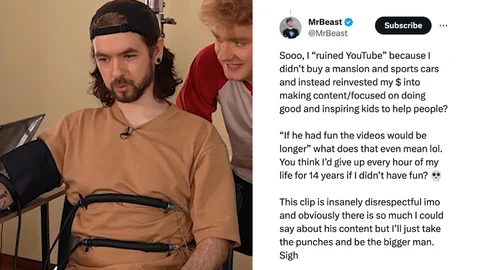 Both of them started making YouTube videos in 2012, even though Jacksepticeye had his breakthrough a few years earlier than MrBeast. Jack is basically one of YouTube's elder statesmen, having lived through all of the different eras, while MrBeast took the YouTube game and basically beat it in the last few years with wildly different content.
With two huge creators clashing, it didn't take long for the Internet to pick sides. Obviously, MrBeast had his supporters, others came to Jack's defense, claiming he had been misunderstood – it's the MrBeast copycats wanting quick fame and money that are the problem, and not Jimmy. You get the gist. Others agreed with Jack, though:
he's kinda right tbh. while i think mr beast does good things, i also think he has a major hero complex and does it for views. like, for fucks sake, look at this thumbnail https://t.co/MlBGnFElKv pic.twitter.com/dfIa2v5lAi

— liv (@grimeskywalkers) September 3, 2023
MrBeast And Jacksepticeye Hashed It Out
While fanbases tore each other to shreds, with some collateral casualties who wanted to partake in the discussion, Jimmy and Jack did something pretty refreshing and unique in the world of social media: They talked in private.

Without any more drama, MrBeast simply took to the tweet that originally started it all and let everyone know "We messaged, we're Gucci now" with Jack also replying with a good-natured cowboy emoji and thumbs up. Take notes: That's how adults solve their problems!
Don't forget: these are basically two dudes who both like to help people out, each in their own way, and they apparently resolved their issues (that were, probably, a bit blown out of proportion.) Good for them!
Kinda cute how Jack and Jimmy both try in vain to match EarlyGame's YouTube. Keep trying, boys!
This article contains affiliate links which are marked with [shopping symbol]. These links can provide a small commission for us under certain conditions. This never affects the products price for you.