With Season 5 of Stranger Things being the last one, Netflix plans to expand the franchise by releasing a brand-new series.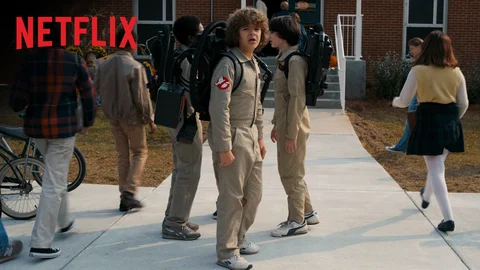 Stranger Things, one of Netflix's most successful Originals, is coming to an end with its fifth season. It seems like the streaming-platform is not yet ready to let that cash cow go, as they recently announced that the franchise will make its way into the world of animation with a new series.
New Stranger Things Animated Series In Development By Netflix
Ever since the first season released back in 2016, Stranger things has been going strong (maybe falling off a little in the middle).

When Netflix announced that the upcoming season 5 will be the last one, fans were left disappointed, not yet ready to leave the beloved franchise behind.
Good thing that the Duffer Brothers, who created the record-breaking series in the first place, are looking to expand the franchise into an animated series.
Variety interviewed them, and their excitement for the new project is obvious:
"We've always dreamed of an animated 'Stranger Things' in the vein of the Saturday morning cartoons that we grew up loving, and to see this dream realized has been absolutely thrilling".

Seeing how passionate the two of them are really gets me hyped for this new series, and they've already proven that they know how to make this work.
"We couldn't be more blown away by what Eric Robles and his team have come up with — the scripts and artwork are incredible, and we can't wait to share more with you! The adventure continues…"
Looking at Netflix's track record with animated series like Cyberpunk: Edgerunners, Arcane and Castlevania, expectations have reached an all-time high for this upcoming project by the Duffer Brothers.
Whether this will turn into a new fan favorite, or disappoint fans all around the globe, is still not clear. We will have to wait and see what the future brings.
If you didn't know, there's even a VR game for Stranger Things coming out: