Netflix is chock-a-block full of great shows and movies (and some pretty awful ones as well). What's out this month? Is it all trash or is there something to look forward to?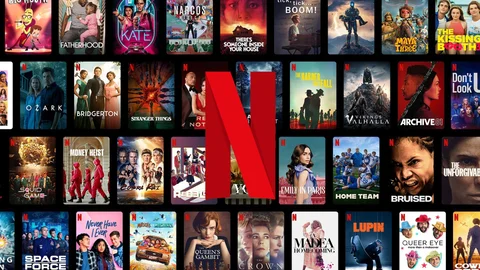 Every year, we get dozens of fantastic Netflix shows and films beamed right to our television screens via this fantastic streaming platform. We also get a ton of garbage, that's true, but let's just focus on the positives, shall we? From the various Netflix films that won accolades at The Oscars 2022, to the rumored Bioshock movie and upcoming Squid Game "Universe" content, there's always a lot to look forward to every month.
The thing is, we also see a lot of content being removed each month. The sudden removal of all Marvel content from Netflix, simply due to Disney+ being a thing, is the latest casualty, but we often see pretty major shows (for example, New Girl) being removed regularly from the service. So we want to keep you up-to-date on what's being added, so that you can watch them or add them to your list before they're gone again.

What's Coming To Netflix In July 2022?
There is a ridiculous amount of content coming to Netflix in July, as there is each and every month. What we're going to do here is first give you a quick breakdown of the most significant releases in July, and then we're going to give you a nice long list for you to peruse.
The Biggest Netflix Releases In July 2022
A ton of shows and movies release every month on Netflix. There is so much to talk about but, let's be real, the majority of stuff that drops each month are old shows and movies that are there to fill up the space. Thus, in this section, we will focus entirely on big releases that are coming out in the month of question.
Stranger Things (Season 4, Volume 2)
We don't need to explain this one; Stranger Things is now in its 4th season. Either you've already started watching Stranger Things, and you're into it, or you're not. But we will say to those who haven't tried it, this show is well worth trying. Even if you're not traditionally into horror and the supernatural, the quality of writing and performance in this show might win you over. The hype is justified here.
Mean Girls
This is a phenomenal teen romcom, and it still stands up as a genre-defining classic. The plot isn't hugely original, Lindsay Lohan's character goes to a new school and joins the popular group, then slowly she realizes that they're fake, and she's better off with the alternative kids. But this is the best version of that cliché story you'll ever see. So if you're looking for something to watch on a lazy afternoon, or you just want to take a trip down memory lane, don't forget to watch Mean Girls this month.
Insidious
Insidious is one of the very few horror films of the last 20 years that's been good enough to make it into the mainstream. And that's for two reasons. Firstly, the performances and production values are higher than you normally see in horror films, and secondly, the film is genuinely terrifying. We wouldn't recommend this film to anyone who's on the fence about horror, but for those seeking thrills this summer, Insidious should be on your watch list.
I Am Legend
Now this is a film we assume most of you already know. But if you're too young to remember, this was a huge blockbuster action film from 2008 featuring Will Smith. A zombie apocalypse has left Will Smith's character as the only surviving human in New York, and we follow his day-to-day life co-existing with the Zombies and trying to find a cure. This isn't one of the best action films ever made, but it's really solid, and most of you probably saw it so long ago that you're overdue a rewatch.
All Netflix Releases in July 2022
New Netflix Content Coming July 1
A Call to Spy (2020)
Big Daddy (1999)
Blue Jasmine (2013)
Boogie Nights (1997)
Catch Me If You Can (2002)
Contraband (2012)
Deliverance (1972)
Falls Around Her (2018)
Final Score (2018)
GoodFellas (1990)
I Am Legend (2007)
John Carpenter's Vampires (1998)
LOL (2012)
Miss Congeniality 2: Armed and Fabulous (2005)
Natural Born Killers (1994)
Old School (2003)
Police Academy (1984)
Semi-Pro (2008)
Snatch (2000)
The Dark Knight Rises (2012)
The Dirty Dozen (1967)
The Pursuit of Happyness (2006)
The Talented Mr. Ripley (1999)
The Terminal (2004)
Wild Card (2015)
Wyatt Earp (1994)
Zero Dark Thirty (2012)
Operation Romeo (2022)
New Netflix Content Coming July 3
Blair Witch (2016)
Oh My Baby (Season 1)
The Art of Incarnation (2021)
New Netflix Content Coming July 4
New Netflix Content Coming July 5
Attack on Pearl Harbor: Minute by Minute (Season 1)
The Secret of Skinwalker Ranch (Season 1)
New Netflix Content Coming July 6
Control Z (Season 3 – Final Season)
Fast & Feel Love (2022)
Girl in the Picture (2022)
Hello, Goodbye, and Everything In Between (2022)
King of Stonks (Season 1)
Uncle from Another World (Season 1)
What's Coming to Netflix on July 7
The Flash (Season 8)
Karma's World (Season 3)
Vinland Saga (Season 1)
New Netflix Content Coming July 8
Boo, Bitch (Limited Series)
Capitani (Season 2)
Dangerous Liaisons (2022)
How to Build a Sex Room (Season 1)
Incantatation (2022)
Jewel (2022)
Ranveer Vs Wild with Bear Grylls (2022)
Ride on Time (Season 4)
The Longest Night (Limited Series)
The Sea Beast (2022)

New Netflix Content Coming July 9
New Netflix Content Coming July 10
New Netflix Content Coming July 11
For Jojo (2022)
Team Zenko Go (Season 2)
Valley of the Dead (2022)

New Netflix Content Coming July 12
Bill Burr: Live at Red Rocks (2022)
How to Change Your Mind (Season 1)
My Daughter's Killer (2022)

New Netflix Content Coming July 13
Big Timber (Season 2)
CHiPS (2017)
D. B. Cooper: Where Are You (Season 1)
Hurts Like Hell (Season 1)
Never Stop Dreaming: The Life and Legacy of Shimon Peres (2022)
Sintonia (Season 3)
Under the Amalfi Sun (2022)

New Netflix Content Coming July 14th
Kung Fu Panda: The Dragon Knight (Season 1)
Resident Evil (Season 1)
New Netflix Content Coming July 15
Alba (Season 1)
Country Queen (Season 1)
Farzar (2022)
Love Goals (2022)
Mom, Don't Do That! (2022)
Pan (2015)
Persuasion (2022)
Remarriage & Desires (Season 1)
Uncharted (2022)

What's Coming to Netflix on July 16
Umma (2022)
Live is Life (2022)
My Little Pony: A New Generation: Sing-Along (2021)
StoryBots: Laugh, Learn, Sing (Collection 2)
Too Old for Fairy Tales (2022)
New Netflix Content Coming July 19
David A. Arnold: It Ain't For the Weak (2022)
Bad Exorcist (Seasons 1-2)
Virgin River (Season 4)

New Netflix Content Coming July 21
Jurassic World Camp Cretaceous (Season 5)

New Netflix Content Coming July 22
Blown Away (Season 3)
My Village People (2021)
One Piece (New Seasons)
The Gray Man (2022)
New Netflix Content Coming July 25
Gabby's Dollhouse (Season 5)

New Netflix Content Coming July 26
August: Osage County (2013)
DI4RIES (Season 1)
Shania Twain: Not Just A Girl (2022)
Street Food: USA (Season 1)

New Netflix Content Coming July 27
Car Masters: Rust to Riches (Season 4)
Dream Home Makeover (Season 3)
The Most Hated Man on the Internet (2022)
Pipa (2022)
Rebelde (Season 2)

New Netflix Content Coming July 28
A Cut Above (2022)
Another Self (Season 1)
Keep Breathing (Limited Series)
Oggy and the Cockroaches: Next Generation (Season 1)
New Netflix Content Coming July 29

Fanático (Season 1)
Purple Hearts (2022)
Rebel Cheer Squad: A Get Even Series (Season 1)
The Beauty Queen of Jerusalem (Season 2)
The Entitled (2022)
Uncoupled (Season 1)
The Wretched (2019)
So, there you have it! Everything that is coming to Netflix, in 2022. There is just so much in this article that we would be surprised if you are reading this li'l tid-bit. Thus, eat a pizza, sit down, binge some Netflix and don't forget to listen to The EarlyGame Podcast. It's great, and this is a shameless plug. Have fun.