How much is the net worth of Ninja, the OG most subscribed streamer, in 2023?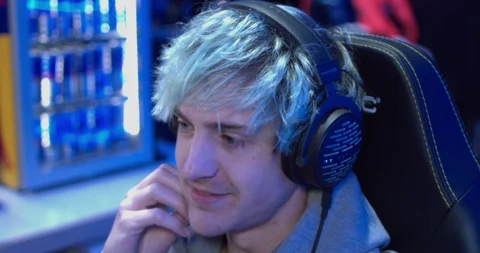 Tyler Blevins is just a (somewhat) regular guy. His hair color is a bit unorthodox, but other than that: he has a wife, likes to play games and gets angry sometimes. Aren't we all a little bit like Tyler? Well, no, because Tyler is also Ninja and Ninja has a lot of what me, and you don't: money. But how much money does he have exactly?
Ninja exploded onto the streaming scene in 2017 – the year of Battle Royales Of course, he became most known for playing Fortnite, but that's not all Tyler does. He probably wouldn't have the net worth he has if he stuck to the Fortnite map.
Ninja Net Worth: How Good Does Fortnite Pay?
So buckle up, close your seatbelts, it's getting hot in here! Ninja's net worth is in the tens of millions! That, we know for sure.

An accurate estimate is a bit difficult, so we had to put our brains to work, which was pretty difficult tbh. But that won't stop us from finding what Ninja's net worth is!
Looking at his biography, we've confirmed that he has more than a few sponsorship deals in his CV (shocking, I know). The top of the pile are the deals with worldwide mega-brands Adidas and Red Bull, as well as Walmart.
Oh, and don't forget the Mixer deal, which approximately earned Ninja between $20 – 30 million.
Sponsors are not the only income for Blevins. Far from it. He is still very much in the loop on Twitch and YouTube. According to estimations, Ninja still rakes in around $500.000 a month just off of streaming and uploading to his YouTube channel, including ad revenue and subscriptions.
His genius idea of streaming on multiple platforms at the same time, like Twitch, YouTube etc., should really help him in maximizing his revenue.

In the past, he broke the internet with his incredible sub record (which now has been broken twice), as well as his exclusive Mixer partnership. Nowadays, he makes cameos in blockbuster movies starring Ryan Reynolds.
Enough sweet talk, back to counting mountains of money.
Ninja's official estimated net worth is anywhere between $15 – 40 million (I know that's a wide margin, but it is hard to track down, and different sources say different things). Given the fact that Ninja's brand continues to grow, we feel like that number is perhaps at the higher end of our estimation.
PewDiePie laughed off his official estimated net worth of $40 million, suggesting it's much higher than that. Ninja is no PewDiePie as a content creator, but he is up there in terms of endorsement deals, which should compensate somewhat.

That's why we would put the blue-haired assassin's net worth at around $35 million.

This article contains affiliate links which are marked with [shopping symbol]. These links can provide a small commission for us under certain conditions. This never affects the products price for you.