OnlyFans has been on the rise since Covid took over. It is a great opportunity to earn huge amounts of cash, if you have a body people would pay to see naked. Seems like a lot of these streamers do. Here are some streamers you probably would want to see in the nude.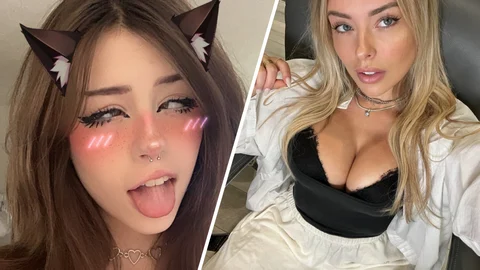 Which Twitch stars have an OnlyFans account? While Twitch in the last few months is becoming more and more sexualized, you can only find the good sh*t on OF. These are the most popular girls on Twitch, that can be found on OnlyFans as well.
Sex Sells. The fact that Twitch had to open up the Hot-Tubs category on Twitch, because it was dominating Just Chatting, tells you all you need to know about that. These Twitch streamers look like freaking models and have no problem showing what they got. Why not make an OnlyFans then and get paid absurd amounts of money for showing a nipple or two? Some streamers accidentally did that on Twitch already.

Even though it is actually against Twitch's terms of use, more and more female streamers are using the platform to promote lewd content. But we'll leave the moral argument alone. This is an article for the OnlyFans starlets, and the story of how they made it to the top of Twitch.
You want to support your favorite streamer without having to pay a lot, while still getting a ton of benefits yourself? Try the Amazon Prime Free Trial, which will grant you one free prime subscription on Twitch every month.
Who is Hannah Owo?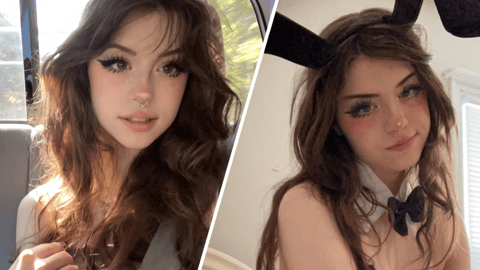 Hannah Owo is an 19-year-old content creator who's been rapidly gaining traction on TikTok, Twitch, Twitter and OnlyFans. She's the weeb girl of your dreams, saying sh*t like UwU and doing Ahegao faces. She does a lot of Just Chatting content, plus a little bit of gaming on the side, like it is normal for the video game streaming platform Twitch.tv. But she's famous for erotic content. Obviously.
If you want to watch Hannah Owo then you might also find her under the name AestheticallyHannah on certain platforms.
Who Is Mia Malkova?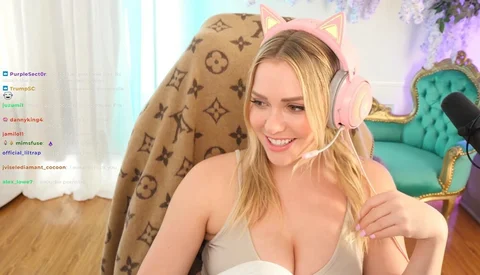 I mean, stupid question. Every guy I've ever met knows Mia Malkova. Her experience in the adult entertainment industry sure must have helped her get a head start on Twitch and especially on OnlyFans. I mean, she's done worse than just posting her nudes, probably for less money as well.
Her Twitch content is kinda tame, playing World of Warcraft and Dead by Daylight. On OnlyFans though, well you can guess the rest. It's rather cheap at $9.99, but that's probably because you can see everything for free on other platforms. Still, I guess it still pays well enough.
Who Is Corinna Kopf?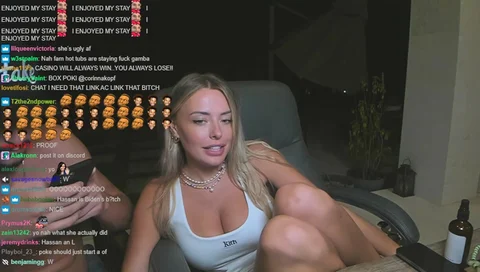 Corinna Kopf is probably one of the bigger names, when it comes to streamers on OF. Maybe because she is one of those, that leaked her salary on the platform. I mean, she earned more than $4 million in the first month and about $1 million a month afterwards! That's crazy! I would make an OnlyFans for that kind of money. Her OF costs $14.99 per month, so you can do the math on how many people are paying for that.
Her rise to fame actually started on YouTube, where she collaborated a lot with YouTuber David Dobrek. This helped her grow into one of the bigger female streamers and land a lucrative deal with Facebook gaming. Now she is back on Twitch, though, doing gambling streams, which is why I was able to include her in this list. Nice.

Corinna definitely should get a better camera though. If you earn a million a month, please buy some nice equipment to improve the quality of the content. Here, I even researched a decent webcam, that can also be used for the $14.99 a month content.

Who Is Amouranth?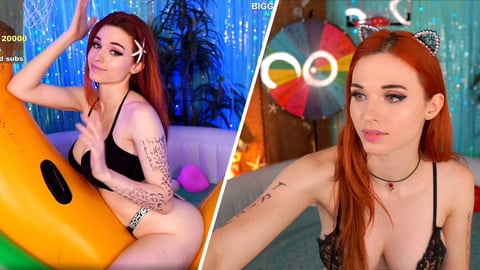 Gotta bring out the big guns now, and there are two of them! One of the most popular female streamers on Twitch, Amouranth switched from Patreon to OnlyFans, which costs $14.99 a month. She has over 200 posts on there, so I guess you get something for your money. She has already gotten in trouble on Twitch for her specific type of content multiple times, but this earned her more followers than ever before.

After numerous bans for up to three days and a removal of her ad revenue, Amouranth is still going strong. At this stage, Twitch is more like free promotion of her OnlyFans, where she is making the larger portion of her income.
But there's more to this story, as she recently announced something that might signal her departure from OF. She might even launch her very own platform for 18+ content...
Taking about Amouranth, we had an interview with her... didn't go as planned though.

Who is TheNicoleT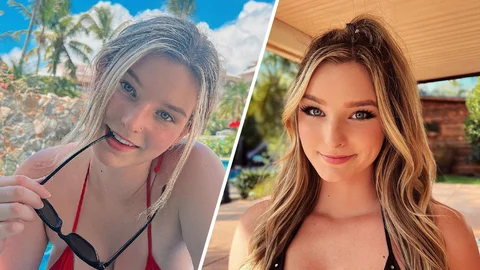 TheNicoleT has had some bad luck the last couple of weeks, as she was doing some IRL beach streams and people just kept interrupting her broadcasts.
On OnlyFans on the other hand, the content creator is making bank, monetizing her immense following, tendency growing.

Nicole easily doubled her followers since 2022 and with the recent drama she will get even more attention. Her content on Twitch mostly revolves around the Just Chatting category as well as ASMR, and recently has been streaming a lot in the hot tubs, pools & beaches category.
Who Is Alinity?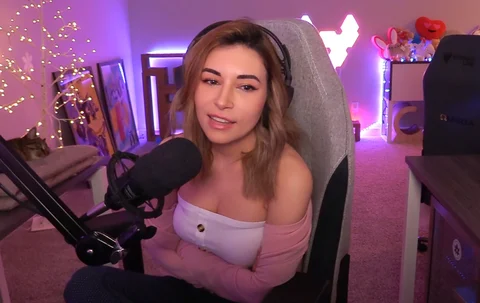 Alinity joined the train of Twitch streamers making their way to OnlyFans pretty late, and is the last high-profile name to do so. She claimed to have made more there in a month than she would have in 10 years on Twitch. That should give you an idea of how profitable this all is for these girls.

Btw. we couldn't include every last one of the many streamers that have an OnlyFans. So if we missed your favorite streamer/OnlyFans creator, we're sorry. You can also leave your favorite in the comments!

This article contains affiliate links which are marked with [shopping symbol]. These links can provide a small commission for us under certain conditions. This never affects the products price for you.