This Twitch streamer was harassed during an IRL stream on a beach. The reason? Her bikini and the fact that she was "shaking her ass".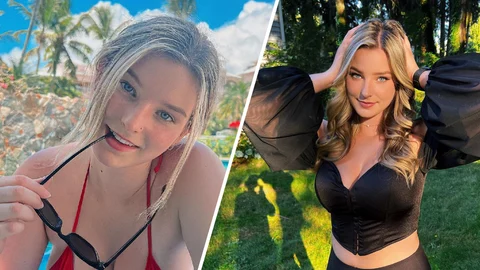 The Twitch streamer NicoleT has had the worst of luck on the beach recently. First she was faced with a woman that wanted to flash her live on stream, and now she came face to face with some angry people, harassing her because of her content.
IRL streams are notorious for their unpredictability and even though they offer an immersive experience to viewers, they are pretty dangerous sometimes. The fact that the streamer is unable to really control what is going to happen is part of the thrill, but for NicoleT things escalated recently, when two beach-goers approached her.
NicoleT Harassed By Angry Beach Goers
During a recent broadcast, Twitch streamer NicoleT was doing an IRL stream, just laying at the beach just minding her own business, when she was approached by "some very angry 17-year-olds".

The streamer was simply lying on the towel, when what appears to be two young women started shouting at her.

The first one instantly started insulting her, saying "We know what you are doing is disgusting" while the other one asked "how old are you?".
A male bystander caught wind of the situation and tried defending the streamer, trying to defuse the situation by saying: "she's at the beach in a swimsuit talking on her phone."
The two women responded to the man, shouting how she was "shaking her ass" and (probably referring to the previous statement) "making money."
When NicoleT then asks the two why they were so mad, the two got increasingly aggressive while answering: "because there are kids here, I'm sure their parents don't want to watch it and those people literally left because of you".
They continued to insult the streamer, saying "you have no self-morals, you have no self f**king respect, f**k your f**king video b**ch", before whacking the camera.
NicoleT Releases Statement On Instagram
After the Incident, Nicole went on Instagram to address the situation, explaining how she thinks the two girls targeted her because of her body-type and how that wouldn't have happened if she was "skinny".
She then calls them out on their behavior, saying they "had no right" to treat her that way, and how she could have pressed charges but decided not to.
NicoleT then continues to deny their claims, that she was "shaking her ass" or that there were children around, affirming how she was simply minding her own business, lying on the beach.
There is no question, that the two girls were completely out of pocket for harassing the streamer the way they did. Hopefully NicoleT will be able to enjoy some peace at the beach in the future, as she just had the worst luck recently.
IRL streams can be pretty dangerous! Just look at this streamer being followed across Taiwan, by a creepy stalker:
This article contains affiliate links which are marked with [shopping symbol]. These links can provide a small commission for us under certain conditions. This never affects the products price for you.