YouTuber Trevor Jacob faces 20 years in prison for crashing his airplane.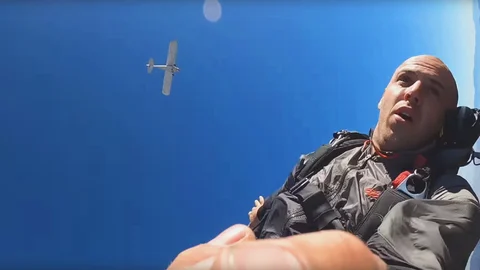 YouTuber Trevor Jacob, is under fire for crashing his plane on purpose! Although the story is almost a year old, it is also brand-new, as it has recently been revealed that he is facing up to 20 years in prison for this stunt.
Trevor Jacob is a former Olympic snowboarder that has been making a name for himself on YouTube with his crazy stunt videos. Up until about a year ago, that is. Around that time, he uploaded his video "I Crashed My Airplane" and has been hot waters ever since, as people accused him of staging the crash.
The main reason for these accusations were how oddly well-prepared Jacob appeared to be. Not only was he already wearing his parachute while entering the plane, but also had a full GoPro setup filming everything.
Now, more than one year later, Jacob has ultimately admitted to intentionally crashing his plane and faces 20 years in prison.
Trevor Jacob Pleads Guilty to Crashing His Plane
On November 26, 2021, the YouTuber told the National Transportation Safety Board (NTSB) about the accident, which prompted an investigation.
A federal prosecutor revealed, that "in the weeks following the plane crash, Jacob lied to investigators that he did not know the wreckage's location, according to the plea agreement."
Well, turns out Jacob tried to get rid of evidence without the investigation team knowing. The prosecutor explained how Jacob used a helicopter to secure the wreckage and transport it to a hangar, where he tried to dispose of it to obstruct the investigation.
Seems like this only made his sentence worse, as now all of his lies have been revealed to the public. His sentence of 20 years in jail was probably set, taking into account not only the crash, but his lied and obstruction of the investigation as well.
So yeah, this dude survived a plane crash just to spend almost a life-sentence in prison, all for YouTube content.
Some YouTubers really take content creation too far...:
This article contains affiliate links which are marked with [shopping symbol]. These links can provide a small commission for us under certain conditions. This never affects the products price for you.