The hype around Starfield is in full force and almost every content creator is getting involved, but we won't be seeing any collabs between Dr Disrespect and Bethesda. Because, as Dr Disrespect himself recently revealed on steam, the Starfield team have chosen not to work with him due to his "past controversies."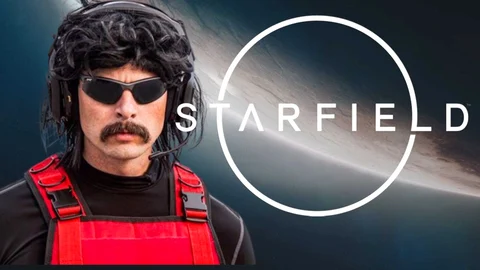 Herschel "Guy" Beahm, probably better known by his persona Dr Disrespect, has spoken out about Bethesda's refusal to work with him. The reason? "Past controversies."
"Past controversies" is fairly vague, but in this case we know exactly what they are referring to.
I know The Doc ain't on Twitch, but maybe support a streamer of your choice with a free sub coming with your Amazon Prime free-trial membership?
The Doc's End Boss: Pronouns?
Nearly every gamer has been there: starting up a new game and then spending way too much time in the character creation screen. What started as taking twenty minutes to pick a starter Pokémon has evolved into taking four hours to make a perfect character to spend the whole game with. Sounds familiar?
Dr Disrespect spent some more time in the character creator as well, but for different reasons, and that's where the mess starts. Beware the pronouns!
The Doc was dumbfounded when he was confronted with the option of picking pronouns for his character and after he noticed that Pete Hines, Head of publishing at Bethesda, had his own pronouns in his Twitter bio, Dr Disrespect seemed to connect the dots.
Dr. Disrespect was rejected a Starfield sponsorship deal due to his recent transphobia, and he got triggered on stream because the head of Bethesda publishing has pronouns in his bio

These guys wouldn't survive MW2 lobbies if pronouns trigger them pic.twitter.com/mg1cu5XeH2

— thaena (@ppPepoComfy) September 2, 2023
A tale as old as time: it's the people with their "political correctness" and their "wokeness" at Bethesda preventing Dr Disrespect from playing his new game before everybody else, even though he apparently really, really wanted to.
But The Doc knows what's up with those kids and their silly little pronouns. In a Tweet of his own, he responded to the viral clip of him:
Some of these poor young people are just depressed. No life experience and completely misdirected by the internet. Look at my words being taken out of context here. Their insecurities are obvious. Politics should stay out of the video game industry entirely along with people like this.
Bethesda has yet to reveal their reasons for not wanting to work with The Doc, so there's no confirmation of Dr Disrespects claim or his theories.
But if you want to pick your pronouns, don't let The Doc stop you.
If Starfield's off the table for Dr Disrespect, he may want to try out another game. We can help with that.
This article contains affiliate links which are marked with [shopping symbol]. These links can provide a small commission for us under certain conditions. This never affects the products price for you.