The FUT Fantasy brings dynamic special cards in FIFA Ultimate Team. We show you all different upgrades, and explain how the players can get them in FIFA 23.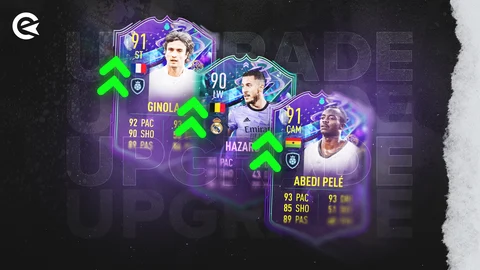 In FIFA 22, EA replaced the beloved "What If" cards with a new promo called Fantasy FUT. And we saw the event once again – but also with Heroes this year!
Just like on the Road to the Final (RTTF), cards can get upgrades depending on results in real life. In this article, we explain the stages and different upgrades in detail. You will also find the latest FUT Fantasy players and upgrades in our tracker:
FIFA 23: FUT Fantasy Upgrades Explained
Each special Player Item is eligible for upgrades based on both team and individual achievements on the pitch during select matches in their domestic run-in. Fantasy cards will be able to get 4 upgrades in total. Heroes can only receive two upgrades, depending only on their respective teams' performances. Which... shouldn't surprise anyone as they can't score, keep clean sheets or make any appearances themselves anymore.
Featured players will be divided positionwise in attackers and defenders and receive upgrades depending on their appearances and performance in their respective domestic league
How RTTF Upgrades Work In FIFA 23
CHALLENGE
UPGRADE
+1 OVR

3 Appearances In Next 6 Matches

+1 OVR

ATT/MID: 2 Goals Or Assists
DEF/GK: 2 Clean Sheets

+1 OVR

Avoid defeat In All 6 Matches

+1 OVR + New Traits
A defender or goalkeeper is awarded a clean sheet if he remains on the pitch for at least 60 minutes and does not concede a goal during that time. The "two goals or assists" upgrade is a grand total. A player item qualifies for the +1 OVR upgrade if he scores two goals, two assists, or one of both.