Legends and All-Star Squads in FIFA 23. We present to you the greatest lineups of all time in FUT that will make every fan's heart beat faster. Watch, enjoy, and replicate.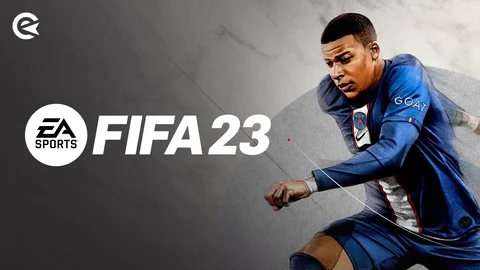 Everyone has that one squad that is associated with magical moments. Whether it's the Invincibles of Arsenal, the Galacticos of Real Madrid, the treble-winning team of Bayern Munich, or the Tiki-Taka passing monster of FC Barcelona.
To honor the stars of the past, we have put together various teams from different leagues with great passion. We have recreated specific clubs with their club icons and also All-Star teams consisting of players who either played for multiple clubs in the respective league for an extended period or whose clubs provided only a few legendary players for FUT.

Copying is not only allowed but expressly encouraged.
FUT Legends & All-Star Squads:
Here are the greatest teams of all time. We also offer alternatives to our starting lineups because all these iconic teams had and still have an abundance of world-class stars.
LaLiga
Real Madrid
A truly galactic team. The Royal Whites from Madrid.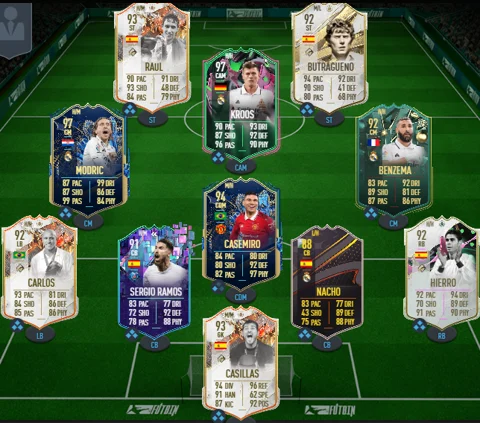 The three Trophy Titan Icons showcase the achievements these players had in their careers. The team may not have a manager for full chemistry, but Carlo Ancelotti is known for managing world-class players well.
Take cover! Roberto Carlos steps up for a free kick.
Alternatives: You could add some Portuguese flair to the team with Cristiano Ronaldo, Luis Figo, Ricardo Carvalho, and Pepe.
The team already looks fantastic, but we would love to see Guti or Marcelo in the coming years.
FC Barcelona
Next up is FC Barcelona. This phenomenal team promises the best Barca Tiki-Taka football as always.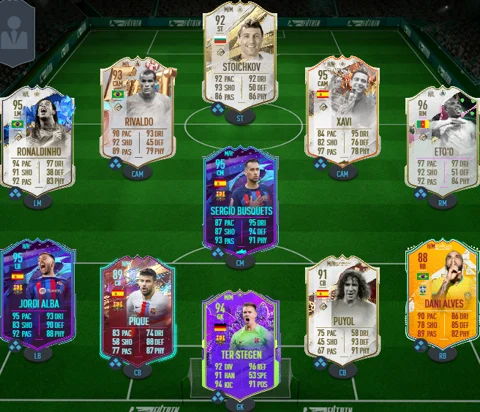 The players in this team need no further introduction. With Pep Guardiola as the manager, all you need to do is run towards the right goal, and these exceptional players will take care of the rest almost single-handedly.
With these passing artists, you can drive your opponent crazy.
The only small downside of this squad is that Dani Alves doesn't reach full chemistry. If the Brazilian right winger were to retire, a Hero card would be the perfect addition to our starting lineup.
Alternatives: You could update the Legends team of Blaugrana with fresher, active forces like Messi and Suarez. There was already an End of an Era card for Iniesta two years ago, which is a shame. An Icon card for him is only a matter of time and depends solely on the career end of the Spanish virtuoso. Cruyff could be included as an additional club icon. The same goes for the Hero card of Javier Mascherano.
La Liga All-Star Team
Our All-Star Team from La Liga is a collection of active players, heroes, and icons.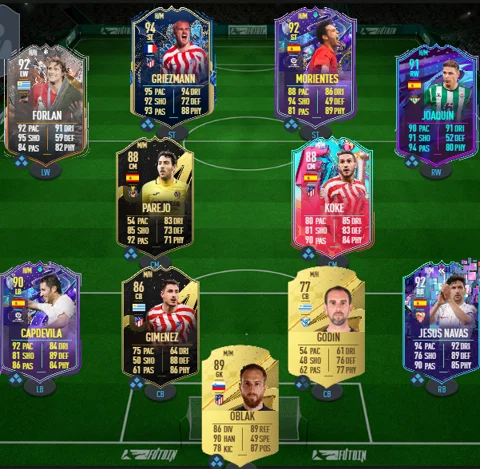 And then there's the eternal Joaquin, who has received a farewell gift for his magnificent career with his EOAE card.
Alternatives: In La Liga, there are many, some still active legends, and the return of more LaLiga cult figures is planned for the new FIFA release. With a high degree of certainty, Arda Turan as a hero will appear.
In our Hero Leaks and Predictions for EA Sports FC, we have predicted another hot candidate.
Serie A:
AC Milan
Let's start in Italy with the Rossoneri, AC Milan.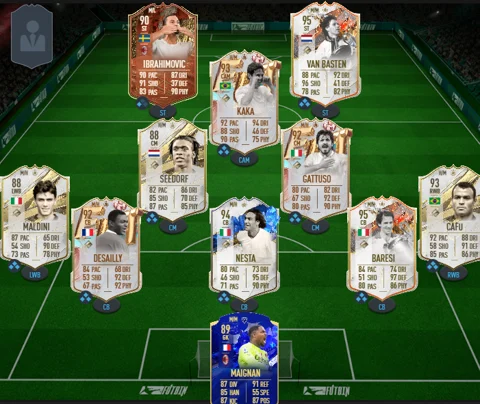 What a team. We don't know where to look first, but perhaps the defense stands out. FUT Birthday Icon Maldini, Trophy Titan Icon Baresi, and World Cup Icon Nesta, that sounds like the finest Italian catenaccio.
This duo has always given us goosebumps. Formerly against opposing strikers, today against all football romantics.
We have included Maignan and Ibrahimović to achieve full chemistry. We are also expecting the End of an Era card from the football god himself. Until then, we have to be satisfied with his Centurion.
Alternatives: Andriy Shevchenko just narrowly missed out on the starting lineup for chemistry-related reasons. He had his best footballing years at AC Milan and is more than just an alternative. Of course, we must not forget Ronaldinho to all Milan fans, but his prime time was with Gaucho in Barcelona. With Brazilian goalkeeper Dida as an icon and right-back Ignazio Abate, we have two suggestions to make our Legends team even more legendary.

Juventus Turin
The Juventus team looks like they played together just yesterday.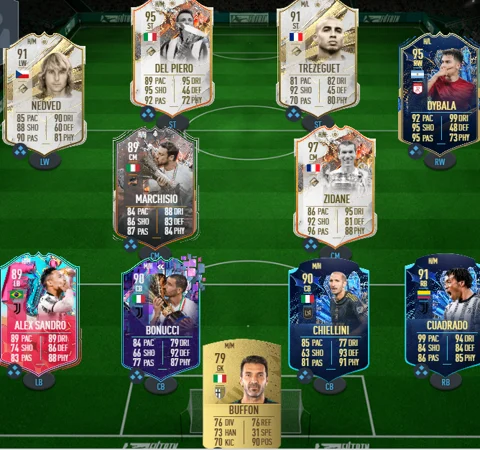 Especially the defense, although all the players are still active, has absolute legendary status. Furthermore, four World Cup finalists from 2006 are side by side with del Piero, Buffon, Trezeguet, and Zidane.
Del Piero, Nedved, and Davids. Simply cult.
Alternatives: Out of respect for his career, we didn't want to leave out Buffon. The better alternative with slightly less cult status would be Wojciech Szczęsny. In midfield, Paul Pogba has returned as the prodigal son this season. The French midfield all-rounder would be an elegant addition.
And how we would love an icon or hero card of Edgar Davids!
In our leaks and predictions for EA Sports FC, Edgar Davids appears. The hero card would be worth 15 million coins due to its appearance.
Serie A All-Star Squad
The All-Star team also comes with a five-back formation, as you would expect from an Italian team.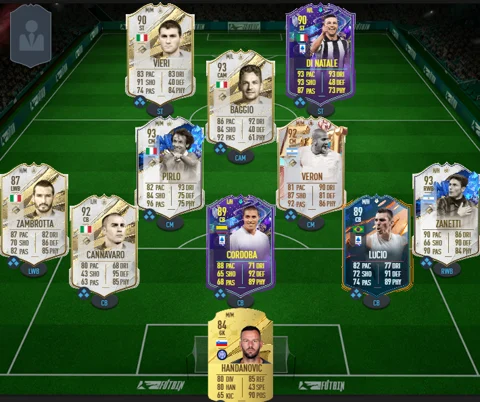 The defense is filled with OP defenders. The attack and midfield are perfectly balanced. A playmaker like Pirlo can set up dribbling wizard Baggio and Vieri is ready for crosses. The enforcer is Veron.
Alternatives: For offensive flair, Völler, Nakata, and Brolin could also be included seamlessly in the team.
We miss Francesco Totti as an icon. Fortunately, it is likely that we will see the last gladiator in the EA Sports FC.
Premier League
Manchester United
WOW! What an incredibly amazing team. Except for ManU legend George Best, all these players have gone through the school of Alex Ferguson.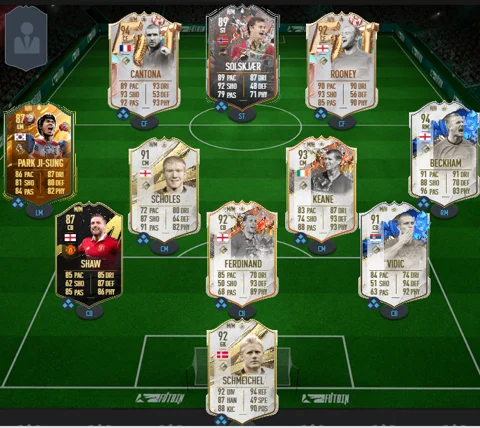 How cool would it be to see legendary coaches on the sidelines in the next FIFA. Imagine Trappatoni or Louis van Gaal in the celebration huddle.
Every FIFA player knows the issue with Paul Scholes. EA has yet to give this exceptional player a playable card. Maybe the Shapeshifter Event will solve this problem and finally give the man, who was named the best midfielder of all time by none other than Zidane, his deserved banger card.

More alternatives: Some ManU fans may not be fond of Cristiano Ronaldo since his inglorious departure.Since CR7 showed his first world-class performances at the Red Devils, he should not go unmentioned.
Luke Shaw may not always have been undisputed, but now he is also on his way to becoming a club icon. However, we would still welcome reinforcement in defense. We also have two hot prospects. We dream of Patrice Evra as a hero in the LB position and Gary Neville as an icon in the RB position.
For those who seek risk, you can also fill your defense with Harry Maguire and Phil Jones, who have become meme legends.
I have no idea which button you have to press for a diving header, but Jones will show you how it's done.
Harry Maguire preventing goals like a world-class defender.
Arsenal FC
Let's move on to the next impressive team. The Premier League season 2003/2004 went down in history. No team had ever managed to complete a full season without losing a single league match before the "Gunners" did it. Many players from the "Invincibles" can be found in this team.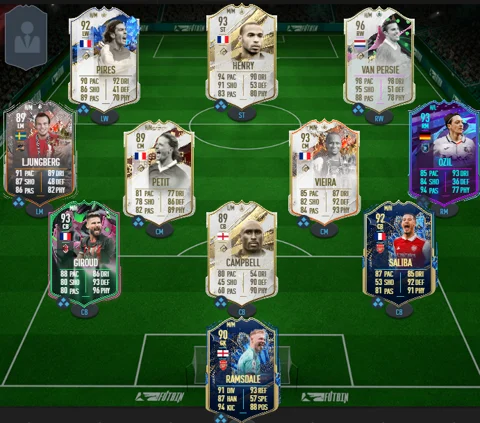 In this strong squad, one player stood out in particular: Thierry Henry. Here's a little taste of his abilities:
We had to improvise a bit in the central defense and goalkeeper position. Ramsdale and Saliba haven't been with the club for long. If Mikel Arteta, whom we would not only welcome as a coach but also as a hero in FIFA, can keep his team together, the current team also has the potential to become legends.
Alternatives: So far, there are no iconic options for the Arsenal icons listed here. However, according to EA Sports' predictions, we will likely get two new fan favorites. Nwankwo Kanu and Tomáš Rosický are expected to return as heroes.
So that we can finally sing the complete Touré song, Kolo Touré is also on our list of predictions. He could replace Saliba in the CB position.
And what about David Seaman, EA Sports? The English cult goalkeeper would be perfect for our legends' team.
Chelsea FC
The Blues don't need to hide from their fiercest competitor.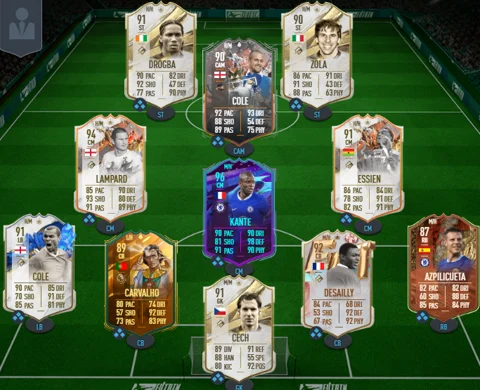 Just like in the best Mourinho times, we have many renowned defensive experts in the defense and also in front of it. After winning the ball, you can look for Drogba, with a long ball, or Joe Cole and Zola can combine their way through the opposing chains.
But why go through all the trouble of combining when you have Drogba, a player who can score at any time from any position.
Ashley Cole is one of the few players who are used by us in two teams (see FC Arsenal). With his urge to move forward and his pinpoint crosses, he was an indispensable player for both London clubs.

Alternatives: Currently, we don't see any true alternatives who have a legendary status at FC Chelsea. But who knows, anything is possible in the future.
For the ultimate defensive fortress, the long-time captain John Terry is the only one missing, whom we can imagine very well as an icon. In the midfield, we will probably have an excellent alternative next year. Midfield engine Ramires will likely appear as a Hero version in EA Sports FC.
FC Liverpool
You'll never walk alone. This is Anfield. These are sentences that only fit one club. And what players has this stadium already seen?!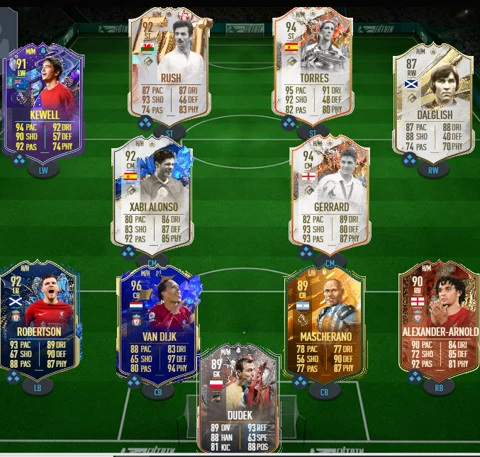 In the 4-2-4 formation, you can constantly annoy your opponent with this eleven in the best Klopp pressing style. Many players from the Klopp era have also made it into our starting lineup.
Rush and Dalglish are true club icons and have brought great success to Liverpool in the past. In the recent history of the club, one man, in particular, embodied FC Liverpool.
The captain with the powerful shot: Steven Gerrard
Alternatives: We deliberately chose the "even more" iconic Liverpool with some icons in the attack. In a few years, Mane, Firmino, and Salah could also be contenders for the legendary forward line. Or maybe they already are? It's up to you.
In the midfield, you can rely on the EOAE card of James Milner.
In the new FIFA, we will probably also have the shotpower of John Arne Riise at our disposal. And when will we see Jamie Carragher or Sami Hypiä, EA?
Premier League All-Star Squad
We already have four Legends squads packed with world stars, but additionally, we have to present an All-Star squad with equally impressive players.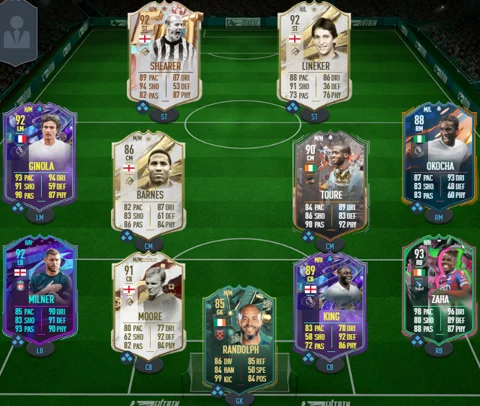 The two players who shine above all in this squad are certainly Yaya Touré and David Ginola. But we also couldn't resist including some FUN cards. Above all, goalkeeper veteran Randolph and meme legend Phil Jones.
This squad may not be the best FIFA has to offer, but it's certainly too good to be just fun.
Alternatives: In EA Sports FC, you have the option to replace the two veterans Lineker and Shearer with more dynamic cards. Dimitar Berbatov and Carlos Tévez will receive their well-deserved Hero cards.
Bundesliga
FC Bayern München
The German record champion has already been honored with several Hero and Icon cards. Let's take a look at the Legends squad.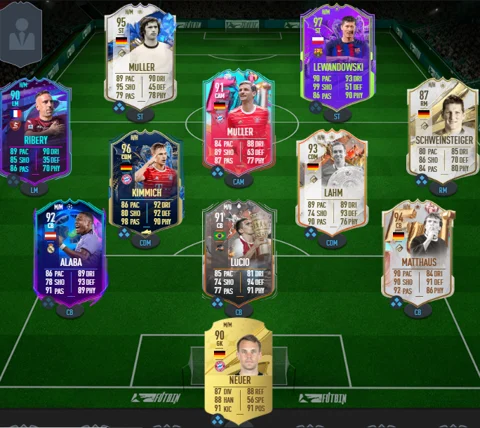 Players like Müller and Kimmich still shape Bayern München's game. The team is almost perfect. Unfortunately, three players (Alaba, Ribery, and Lewandowski) don't play at full chem. A French coach from La Liga corrects this flaw a bit.
Alternatives: Next year, we will probably see the ultimate upgrade on the wings. Leaks suggest Robbery returning as an Icon duo.
The hook that will eventually be named after Robben.
That's one way to do it, Franck Ribéry.
If playable cards of Boateng, Thiago, and Javi Martinez are released in the future, you can recreate the squad that dominated the Bundesliga for many years.
Bundesliga All-Star Team
Unfortunately, the Bundesliga still lacks more Icons and Heroes. Our improvised All-Star squad is still impressive.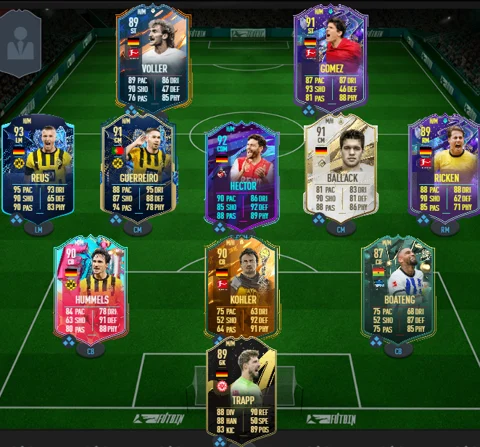 Most players are former or current players of Borussia Dortmund. Overall, the squad, including the versions of special cards, is a colorful mix.
Alternatives: Choupo Moting, Grifo, or Günter are all players who have seemingly played in the Bundesliga for ages. The Hero card of Smolarek is also worth considering.
For the coming years, we would like to see more Heroes. For example, Marcelinho (Hertha BSC), Bordon, Farfán (both Schalke 04), Naldo, or Juan Arango (Borussia Mönchengladbach). The list could go on indefinitely.
Ligue 1 All-Star Team
In Ligue 1, we were forced to forgo a Legends squad from a single club as the supply of Icons and Heroes was not abundant enough. The result is a squad that includes the best players from all Ligue 1 clubs, making it a little treat.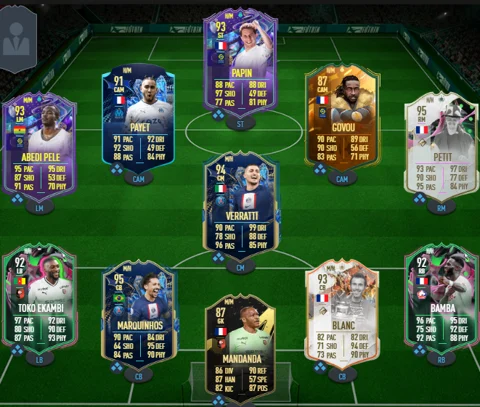 We haven't forgotten Neymar and Mbappé. We believe Neymar had his prime shape at Barcelona. Mbappé could already be part of a Ligue 1 All-Star team, but we want to wait for the summer transfer window of 2023 and a potential move to Real Madrid. Perhaps the Frenchman will lay the foundation to appear in the Madrid Legends team in 10 years. We are curious.
This concludes our Legends and All-Star squads. We hope that you will encounter some of these in FIFA 23 or in a different form in EA Sports FC. Enjoy these iconic players.
This article contains affiliate links which are marked with [shopping symbol]. These links can provide a small commission for us under certain conditions. This never affects the products price for you.