The World Cup in FIFA 23. We'll show you everything we're getting with the WC update. In addition to a tournament mode, there is a lot of FUT content. After dynamic Path to Glory cards, the first Swaps event and the World Cup Heroes as well as World Cup Icons and more, we now see a promo called World Cup Phenoms.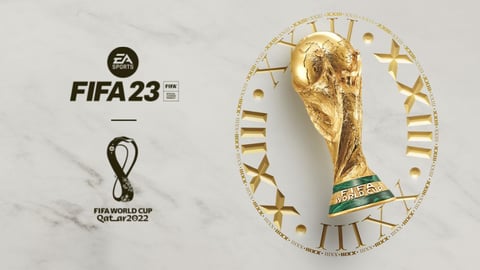 The FIFA 23 event calendar is shaken up this year with the FIFA World Cup in Qatar. Unfortunately, Ultimate Team does not have its own mode, but of course we will still get a lot of FUT content for the World Cup.
Classic friendlies and an online tournament mode in which the cup can be won await us, and there is a ton of fresh stuff in FUT.
FIFA 23 World Cup Mode: Release & Download

The World Cup in Qatar started on November 20, 2022 – the World Cup update in FIFA 23 has been live since November 9. To start the World Cup, you have to download Title Update 3.
The World Cup in FUT started on November 11, and we see a lot of stuff for this event.
Content Of The WC DLC
The World Cup mode is available as free download. It will be included for everyone who got FIFA 23. And the best soundtrack of all time is now in the game too 😍
The WC DLC includes:
FIFA World Cup Tournaments (offline and online)
FUT promo with special cards, Swaps event and Hero & Icon upgrades
World Cup Tournaments in FIFA 23
Play offline or online. Offline, you can choose a nation, start in the group stage and play the whole tourney until you lift the beautiful golden cup to the sky of Lusail. In an extra tournament section, the World Cup can then be played against other players. Here, you start in the knockout stages and have to win four games in a row to become the world champion. Sounds like draft mode – but not in FUT. Check out the best WC nations if you want to win it.
The World Cup in FUT
Unfortunately, we're not getting a standalone mode in FUT this year. Would probably just mess up too much during the current season. But of course EA won't leave out the World Cup and will present us several things:
Warm-Up Series (SBCs)
Time-limited WC cards
Path to Glory (dynamic special cards)
Swaps with tokens system (and rewards)
WC Stars (upgraded players you can get with tokens)
Hero, Icon, and Ones to Watch players upgrades
Road to the FIFA World Cup (RTTWC)
WC Stories
WC Phenoms
WC Team of the Tournament (TOTT)
And we also get kits, tifos, balls and all kinds of WC cosmetics. If you log in to your FUT account by January 3, you'll get another set of free rewards.

Play #FIFA23 by January 3 & receive a loan ICON or loan FUT Hero + special untradeable FIFA World Cup History Maker from the same country

Learn more: https://t.co/3W2jMXS1VR pic.twitter.com/zaFrA4MWia

— EA SPORTS FIFA (@EASPORTSFIFA) November 9, 2022
Collect time-limited WC players until January
Players who can be found in the World Cup squads (or provisional squads) receive red special cards. These are only in your FUT squad until January 4, so don't sell your entire team and keep only them.

You also need them to complete Swaps tasks, so the grind is on. The good thing is that duplicates also count towards your counter and even better, some players get even stronger versions with upgrades. You can get them with rewards, milestones, objectives and repeatable SBCs. And also in Moments packs.
Path to Glory
The Path to Glory Items are dynamic players who can get upgrades depending on their nation's performance at the World Cup. They are live since November 11. You can see all the players and how their ratings are changing here:
Swaps With Tokens And Rewards
You know the drill from Icon swaps. Collect tokens and swap them. You can get tokens both offline and online by completing certain missions. You can see all tokens and how you can get them here:
WC Stars
Some players from the 32 World Cup nations will receive a special card with one upgrade. They're also live since November 11. You can get them through the Swaps event. If you want to see all the players and how many tokens you have to spend for them, this is the way:
WC Heroes, Icons, And Nations to Watch Special Cards
FUT Heroes and Ones to Watch players will also be part of the FUT World Cup and will get upgrades.

In order to not neglect the Ones to Watch special cards, EA Sports has come up with something special. During the World Cup, these player items will be converted to Nations to Watch cards. So Ones to Watch players can get a one-time in-form upgrade if their national team wins a match at the World Cup in Qatar. They don't even have to play or to be in the final squad to receive their boost. Nice.
Road to the FIFA World Cup
Not only the PTG players accompany us throughout the tournament, but also RTTWC cards:
Stories
Story time. We all know that football has those moments that would be too wild for even the most insane Hollywood adaption. And it's coming to FIFA 23!
Phenoms
Young players that perform very well at tournaments are always interesting. EA wants to include them in FIFA 23, too. Could be an appealing set of cards.
Team of the Tournament
And what would be a World Cup if we don't see the best of the best award. Only the best players will make it in the TOTT. We're excited who will be among the chosen ones.
Women's World Cup Available in Summer
After having Sam Kerr on the cover, EA is taking women's football more seriously and will include a real tournament for the national teams that can be played in FIFA for the first time ever: the Women's World Cup in New Zealand and Australia. Was about time. It will be released in Summer of 2023, because the women are playing a classic tourney in summer. LIKE IT'S SUPPOSED TO BE!

This article contains affiliate links which are marked with [shopping symbol]. These links can provide a small commission for us under certain conditions. This never affects the products price for you.