The World Cup has now fully arrived in FIFA 23. Part of the promo(s) are the countless tasks you can find in the Objectives. We show you how to complete them as fast as possible and explain what's the deal with those time-limited WC players.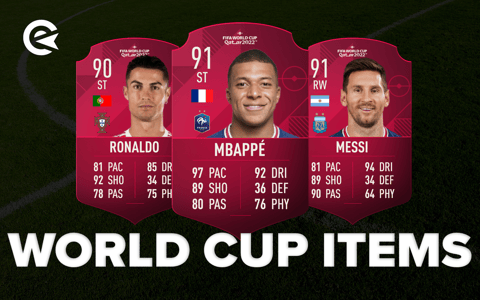 After the initial disappointment around the World Cup Mode in FIFA 23, EA Sports has now overloaded us with content. We got the new Path to Glory cards, new versions of the Heroes and also some free to play contents. Part of these free contents are the new World Cup Items, but what are they good for and how can you even get them?

What Are The World Cup Items In FIFA 23?
The new World Cup Items are timely restricted special cards, you can earn through completing different Objectives and the packs you get from them. You can collect these new cards until January 4, after this, they'll be removed from your FUT club. The more cards you collect, the better rewards you can get. You can use the items really for everything except SBCs. You can for example also use them for the new World Cup Swaps and unlock even more rewards.

How To Get The WC Cards
As we already said, you can unlock the new cards in different tasks, you can find in the Objectives in the Ultimate Team main menu. These tasks are themed around the World Cup. You have to for example score a goal with a player of every nation which participates in the upcoming WC, to complete every single Objective. If you score a goal with an English player, no matter in which FUT mode, you will receive a so-called England Essentials Pack. In this pack, there are some English WC Items. Obviously, this only works once for every nation.
Are you still searching for some Christmas presents? Here's an idea!

You can also get the new special cards through different SBCs. Currently, the 75+ World Cup Players Upgrade SBC is live, just to give you an example. There, you have to submit five bronze and one silver player and receive five random WC cards.
You can then also use these WC cards to complete Objectives for the WC Swaps.

You Can Get These Rewards
The reward system of the WC items is separated into different levels. You have to collect as many cards as you can, to get the best possible rewards. For this, you have until January 4, 2023, after that the WC cards are permanently removed from your club – if you get lucky and pack Mbappé, don't be surprised if you can't use him for FUT Champions next year. Be careful: You then have time until February 4 to redeem your earned rewards!
Here, you can see an overview on the levels there are, the rewards you can earn and of course how many cards you have to collect for each rank.

LEVEL

REQUIRED CARDS

REWARDS
1
6 - 24 World Cup Items

8x 80-84 Players (untradable)

2
25 - 49 World Cup Items

2000 Coins
8x 80-84 Players (untradable)

3
50-99 World Cup Items

1x Prime Gold Players Pack (untradable)

4
100 - 149 World Cup Items

2000 Coins
5x 80+ Player (untradable)

5
150 - 199 World Cup Items

2000 Coins
1x 1 of 4 83+ Player Pick (untradable)

6
200 - 349 World Cup Items

8x 80+ Player Pack (untradable)

7
350 - 499 World Cup Items

5000 Coins
1x 1 of 4 83+ Player Pick (untradable)

8
500 - 599 World Cup Items

5000 Coins
11x 81+ Player Pack (untradable)

9
600 - 749 World Cup Items

3000 Coins
Jumbo Rare Players Pack (untradable)

10
750 + World Cup Items

3x 85+ Players (untradable)
The Fastest Way To Unlock The WC Cards
To give you an example, we show you how simple it really is to collect these players. With this method or to put it better, with this team you can collect 100 WC players, one World Cup Swap Token and three Milestone Players in one match!
All you have to do for this, is build a team with players from eleven different nations. On the bench, you have to have players of five more nations and nearly most important: In the CM position of your team, there should be a Japanese player.
Then, you go to Squad Battles and set the difficulty level to semi pro.
Now, you score a goal with every player in your squad and assist seven goals with through balls (Triangle on PlayStation and Y on Xbox) with your Japanese player. After that, sub in the other five players into the attacking positions and score with all of them. That's already it!
With this, you would already reach level 4 in under 30 minutes. Make sure to check out our interview with SebFUT as well!
This article contains affiliate links which are marked with [shopping symbol]. These links can provide a small commission for us under certain conditions. This never affects the products price for you.