FUT Heroes are EA Sport's way to bring back former club legends to our teams. We got all hero cards in FIFA 23 for you. Take a look at their base ratings and how the upgraded World Cup versions are changing the game.
EA Sports included new Heroes in FIFA 23. Here you can see them all. We explain what Heroes can do for your Ultimate Team and how the World Cup versions look like.
FUT Hero Cards In FIFA 23
Ultimate Team Heroes are players who didn't make it to the rank of iconic legends. But they are stars who have made a major impact in their clubs or leagues and are cult... or simply associated with one specific event. Ole Gunnar Solskjaer (CL final 1999) and Diego Milito (CL final 2010) are prime examples for this.

FUT Heroes have a unique league-specific chemistry linked to their respective Hero moments. In FUT 23 they contribute two chemistry points for the respective league – so you can use them to push your chem to the max.

For each new FUT Hero in FIFA 23, there will be two versions of their FUT Hero item: a base version and a FIFA World Cup version. The normal version celebrates them for club moments, the upgraded World Cup version celebrates their special international moments.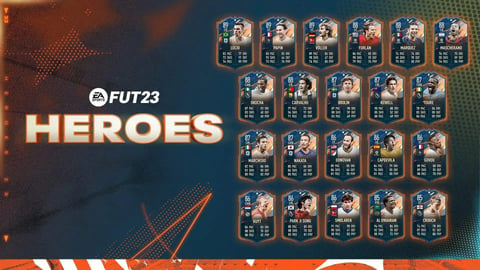 Icon Downgrade for Nakata And Okocha: Only Heroes In FIFA 23
We lost two Icons in FIFA 23, what a shame. Well... not really, not to be disrespectful. Jay-Jay Okocha was ok with his 5-star skills – but nobody was really happy about packing Hidetoshi Nakata. But the two have more impact as Heroes now anyway because Okocha at least pushes Ligue 1 chemistry and Nakata is nice to have in a Serie A squad.
World Cup Hero Release
The base Heroes were in FIFA 23 right from the start. The WC Heroes Team 1 was available in-game from November 11 to November 18. Now Team 2 has found their way into our packs. This one will be available from November 18 to November 25. They will be removed from packs perfectly for the new Black Friday promo.
Pre-order WC Hero Release
Anyone who pre-ordered the FIFA Ultimate Edition by August 21, 2022, will receive a WC Hero – also from November 11. You can find a Hero Pack in your store – but we want to be real with you, the first team of upgraded FUT Heroes did look a LOT better than the current one.

Rising to the occasion at the biggest moments.

The second batch of FIFA World Cup Heroes are now available in #FUT in #FIFA23. pic.twitter.com/GILSWM1N6T

— EA SPORTS FIFA (@EASPORTSFIFA) November 18, 2022
All Heroes in FIFA 23 – World Cup Upgrades
After EA reduced the rarity of Heroes with their massive Hero pack fail, there will be some more and even better Heroes in our packs. Take a look at the upgraded ratings in our table.
Would be awesome to have an even better David Ginola... but maybe we will see another FUT Hero Captains promo later in the FUT season.

FYI, we bolded the FUT Heroes currently available through packs.
| | | | | | |
| --- | --- | --- | --- | --- | --- |
| POS. | PLAYER | BASE OVR | WC OVR | NATION | LEAGUE |
| GK | Jerzy Dudek | 86 | - | Poland | Premier League |
| GK | Jorge Campos | 87 | - | Mexico | MLS |
| LB, LWB | Joan Capdevilla | 86 | 88 | Spain | La Liga |
| CB | Iván Córdoba | 87 | - | Columbia | Serie A |
| CB | Jürgen Kohler | 89 | - | Germany | Bundesliga |
| CB | Lúcio | 89 | 90 | Brazil | Serie A |
| CB, CDM | Javier Mascherano | 88 | 89 | Argentina | La Liga |
| CB, CDM | Rafael Márquez | 88 | 89 | Mexico | La Liga |
| CB | Ricardo Carvalho | 88 | 89 | Portugal | Liga Nos |
| CDM, CM, CAM | Yaya Toure | 87 | 89 | Côte d'Ivoire | Premier League |
| CM, CDM, LM | Claudio Marchisio | 87 | 88 | Italy | Serie A |
| CAM, LM, CF | Abedi Pelé | 89 | - | Ghana | Ligue 1 |
| CAM, LW, ST | Clint Dempsey | 85 | - | United States | MLS |
| CAM, RM, CF | Lars Ricken | 85 | - | Germany | Bundesliga |
| CAM, LM | Aleksandr Mostovoi | 86 | | Russia | La Liga |
| CAM | Hidetoshi Nakata | 87 | 88 | Japan | Serie A |
| CAM, CM | Dirk Kuyt | 86 | 88 | Netherlands | Eredivisie |
| CAM, RM, ST | Jay-Jay Okocha | 88 | 89 | Nigeria | Premier League |
| LM,RM, RW | Ji Sung Park | 86 | 87 | South Korea | Premier League |
| LM, CAM, ST, LW | David Ginola | 89 | - | France | Ligue 1 |
| LM, LW | Freddie Ljungberg | 86 | - | Sweden | Premier League |
| RW, RM, CAM, ST | Said Al Owairan | 85 | 88 | Saudi Arabia | MBS |
| RW, RM, CAM, LW | Joe Cole | 87 | - | England | Premier League |
| LW, LM, CAM | Harry Kewell | 87 | 88 | Australia | Premier League |
| CF, RM, CAM, ST | Landon Donovan | 86 | 88 | United States | MLS |
| ST, CF | Mario Gomez | 85 | - | Germany | Bundesliga |
| ST, CF, CAM, CM | Tim Cahill | 85 | - | Australia | Premier League |
| ST, CF | Ole Gunnar Solskjær | 86 | - | Norway | Premier League |
| ST, CF | Robbie Keane | 86 | - | Republic of Ireland | Premier League |
| ST, CF | Diego Milito | 88 | | Argentina | Serie A |
| ST, CF | Sami Al-Jaber | 86 | - | Saudi Arabia | MBS |
| ST, RM, CF | Sidney Govou | 86 | 87 | France | Ligue 1 |
| ST, CF, LW | Wlodzimierz Smolarek | 86 | 88 | Poland | Bundesliga |
| ST, CF | Peter Crouch | 85 | 86 | England | Premier League |
| ST, CF | Jean-Pierre Papin | 89 | 90 | France | Ligue 1 |
| ST, CF, LW | Antonio Di Natale | 88 | - | Italy | Serie A |
| ST, CF, LW | Diego Forlán | 88 | 91 | Uruguay | La Liga |
| ST, CF, RW, CAM | Tomas Brolin | 87 | 89 | Sweden | Serie A |
| ST, CF | Fernando Morientes | 89 | - | Spain | La Liga |
| ST, CF | Rudi Völler | 89 | 91 | Germany | Bundesliga |