EA Sports has once again made a blunder with the TOTS packs in FIFA 23, following the motto: "Mistakes are there to be made twice." Find out which players are affected here. Just to give you a hint: It didn't stop at just one faux pas.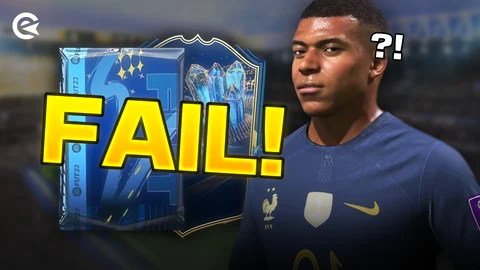 Mistakes are meant to be made multiple times. If there's one thing EA Sports can proudly claim in this FIFA year, it's this motto. Sometimes it feels like the folks at EA Sports are already fully focused on the next FIFA successor, EA Sports FC, given how many times they have failed this FIFA year.
While FUT cards are becoming stronger and pushing the power curve higher, EA's error rate seems to be increasing as well. Just a few weeks ago, a blunder caused discontent among the FIFA community.
German FIFA gamers reported receiving free TOTS player picks as compensation for a mishap with the TOTS promo packs. The German community was pleased, but there was a global demand for compensation for all FIFA players.
FIFA 23: TOTS Promo Pack Blunders 2.0 - False Pack Descriptions Have Fatal Consequences
EA offers a certain selection of promo packs in the FUT store every week. This includes the TOTS packs ranging in price from 100k to 500k. According to the description, buying these packs will give you, among other things, up to five TOTS loan player picks, where you can choose between 3 TOTS or TOTS Moments players from each released TOTS. So far, so good.
But how can EA Sports mess this up?
Quite easily. The error was in the details, specifically in the fine print. Just like in the German and Polish translations, EA messed up the translations for Portugal/Brazil as well.
Here, it was mistakenly stated that the player picks were not loan players but permanently playable. Many FIFA players who relied on this information were in for a nasty surprise when they opened the packs and experienced the consequences of the faulty description.
What followed was another shitstorm for EA.
This weather station on Amazon unfortunately won't warn you about a shitstorm, but it will prepare you for any other weather condition
Compensation is still pending. FIFA players with a Brazilian and Portuguese account can soon look forward to real TOTS player picks. At least that's how EA resolved the issue in the German and Polish FIFA community.
FIFA 23: TOTS/Moments Player Pick SBC Removed From FUT
A few days ago, another blunder followed. A player pick SBC that promised guaranteed TOTS and TOTS Moments players fell short of its promise.
FIFA players were left disappointed as the TOTS Moments players were simply not included in the pack. After the initial complaints, EA Sports promptly responded on the EASportsDirect feed:
The TOTS or TOTS Moments Upgrade SBC did not contain the correct rewards and has been temporarily removed from the game. It will return later and impacted players will receive corrected rewards in-game in the coming days.

— FIFA Direct Communication (@EAFIFADirect) June 12, 2023
Here, EA announced that players would be compensated with new full player picks and assured that the pack would return to the game at a later date.

We hope that the accumulation of errors is truly due to the full focus on EA Sports FC, and that we will get a FIFA successor in September that is largely error-free.
This article contains affiliate links which are marked with [shopping symbol]. These links can provide a small commission for us under certain conditions. This never affects the products price for you.