We tell you how to carry over your FIFA Points from FIFA 23 to EA FC 24. One critical mistake could mean the loss of your FIFA Points – we explain how to transfer your Points to the new FIFA 24.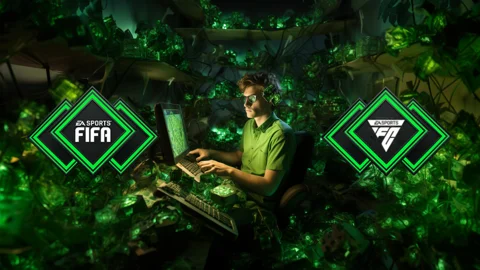 The FIFA successor, EA FC 24, will also offer FIFA Points. You can even get them as bonuses when pre-ordering the Ultimate Edition. But how can you transfer FIFA Points from FIFA 23 to EA Sports FC 24?

Many FIFA players have felt the urge to boost their FUT account by purchasing FIFA Points. Instead of following this path, we recommend you take a look at some general trading tips and try to earn more coins without spending money.
EA Sports FC 24: FIFA Points Are Now Called 'FC Points'
The Points are being renamed to FC Points after the contract between EA and FIFA has expired, so the main source of income for the North American developers needed a new name. If you are looking for FIFA Points in the future, you won't find them anymore.

It's understandable that some people are considering buying FC Points at the beginning of EA FC 24 to upgrade their team for the first Weekend League in the new game. If you find you still have surplus Points in FIFA 23, there's no need to be frustrated that you've wasted money. You can transfer them to EA FC 24 without problems.

How To Transfer FIFA Points From FIFA 23 To EA FC 24

To use your FIFA Points from FIFA 23 in EA Sports FC 24, you need to log into your FUT account in EA FC 24. Unfortunately, you have to wait until the release of EA FC 24 on September 22 (Early Access) or 29 (Standard Edition) to use your previously purchased FIFA Points in EA FC 24.
In past years, we were able to buy FIFA Points in the companion apps, but the exact details about where and how this will be possible this year is not yet known.
It's important to note that transferring FUT Points is only possible within a console ecosystem. This means you cannot transfer your EA FC Points from PS5 to Xbox Series X/S or vice versa.
Important: If you want to play EA Sports FC 24 with a new account, then you should spend all of your remaining FIFA Points in FIFA 23 completely.
Furthermore, it should be noted that the transfer of the in-game currency cannot be reversed. Once you have transferred them, you can no longer transfer them back to FIFA 23.
Keep in mind that purchased FC Points cannot be refunded. So if you only try out the early access with EA Play and don't buy the full game for example, you cannot get your money back for previously purchased FC Points.

Sponsored by