Do you like playing beer pong with your friends? Then try out the party game in Fortnite! A creator has now published the fun cup game as a creative map. We have the map code and all the details for you.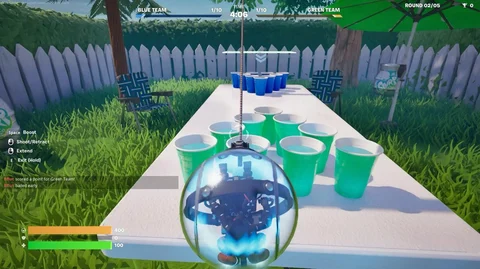 The release of Creative 2.0 has brought a lot of new possibilities to the game. Creators have been busy creating new games for Fortnite, including bringing the hype game Only Up! to Fortnite.
And another map creator also wanted to build hype in Fortnite and released the simple concept of beer pong as a creative map, which was quickly met with a lot of enthusiasm from the community.
Beer Pong Map Code: How To Play The Party Game In Fortnite
If you don't know beer pong, you're either very young or probably living behind the moon. Nevertheless, let's briefly explain the principle of the popular party game: Beer pong originated between 1950 and 1960 in the United States on an American college campus.
The players have to try to throw ping-pong balls into the cups of the opponent at the other end of the table, which are filled with beer, schnapps or water. The opponent must finish each cup hit by a player. The team that hits all the cups first wins.
And now a map creator has thought it would probably be a cool idea to bring the game to Fortnite.
Get some of the best gear for gaming right here on Amazon!
The Fortnite map has a simple, summery design with deck chairs and parasols. In the middle of the map is a large, elongated table with 10 cups on each side. The players themselves sit in the so-called "Kugler", a vehicle that used to be found in Battle Royale.
The Kugler hangs by a rope from a pole above the table. Your goal is to swing the Kugler forward and release it at exactly the right moment so that it lands in one of the opponent's cups. Dropping it into the cup awards the player a point, while the character itself dies and reappears in a new Kugler to play another round.
D3V created a Beer Pong map in Fortnite pic.twitter.com/LXwKjJkl40

— EarlyGame (@earlygamegg) July 7, 2023
Even though the game is very simple in design, it actually looks pretty fun. If you want to try the game yourself, you can simply enter the code 3534-3819-2430 under the tab "Island Code" and join the map. We hope you have fun playing!
This article contains affiliate links which are marked with [shopping symbol]. These links can provide a small commission for us under certain conditions. This never affects the products price for you.