OnlyUp! climbed the ranks on the internet at an incredible pace. Shortly after its release, it became super popular among Twitch streamers. However, another person swiftly created the game as a Fortnite map, which turned out to be even more successful than the original game.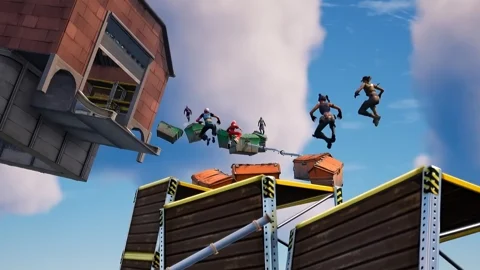 The hype around the jump and jun game Only Up! has taken over the internet in the last few weeks. Thousands of streamers played it live and shared their reactions to this nerve wrecking game with us. Entertaining content, lots of viewers, internet hype, what more could you ask for?
Well, it didn't work out so well for the game developer, because when the hype really started, it wasn't long before someone built the Only Up! game as a map in Fortnite. Turns out, the clone is way more successful than the original.
How To Play Only Up! In Fortnite
Only Up! Fortnite Map Maker Gains Millions Of Dollars
The map "Only Up Fortnite", made by the French Gaming Organization "Army Units", has reached over 100k players in 24 hours alone, which is an insane amount of people. Considering that the all-time-high of the original Unly Up! game was at 11k, it's pretty unlucky for the original that the stolen Fortnite version turns out to be way more successful.
OnlyUp Fortnite has surpassed over 100,000 concurrent players, one of the first maps to achieve this without promotion from Epic.

Congrats @ArmyUnits! pic.twitter.com/WAr8hEttgR

— Fortnite Creative News (@FNCreativeNews) July 3, 2023
Only Up! is a simple game. It basically only consists of random assets as platforms, and even looked a lot like Fortnite to begin with. Naturally, a game like this is super easy to recreate in Fortnite Creative 2.0, and it happened quickly after the hype began.
With Fortnite being a massive free-to-play game and Only Up! being locked behind a $10 paywall, people are obviously going to choose the clone over the original. This is quite sad for the creators of Only Up, because they couldn't get luckier with their game trending so much, but now the revenue will go to somebody else, who simply rebuilt it in Fortnite, and is now even gaining a fortune out of it.
Fortnite Creator Economy 2.0
Fortnite map creators have the potential to earn a significant amount of money if their maps gain popularity. The amount they receive depends on factors such as playtime, player base, and the engagement their created map receives from the community. These creators are paid a portion of all Fortnite cosmetic sales as a result of their efforts.
Considering the popularity of the map and how time-consuming Only Up is, there has already been speculation that the creators of this map could have earned around 1.5 million euros – insane!
Take a look at this article to find out how much money you can actually make with Fortnite maps.
Create The Best Fortnite Islands And Get Rich
While game copies in Fortnite are typically copyrighted and removed really fast, it appears that the Only Up! copy has managed to stay online. Apart from its name, there doesn't seem to be a compelling reason for it to be taken down because it is only a simple game about jumping and overcoming obstacles, nothing extraordinary that could be trademarked.
This article contains affiliate links which are marked with [shopping symbol]. These links can provide a small commission for us under certain conditions. This never affects the products price for you.