Fortnite fans got a little surprise ahead of the release of Marvel's latest blockbuster, Thor: Love and Thunder, releasing two new superhero-themed skins.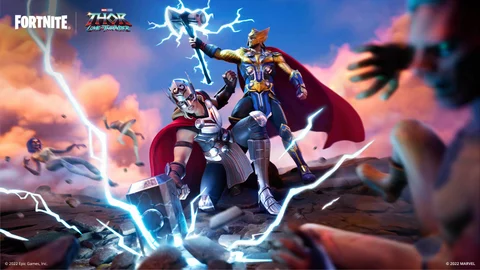 The brand-new Gods of Thunder pack features some unique quirks to it, as well as amazing cosmetics. For starters, it's a bundle that can't be acquired separately, at least thus far; if you're interested in at least one item, you'll have to spend big and get all of them.
One of the most interesting aspects of the Gods of Thunder pack is that both harvesting tools, Stormbreaker and the Reformed Mjolnir, double down as gliders! There is a big catch, sadly, as they can't be equipped while using any other skins that are not worthy of wielding both weapons: Thor Odinson, Mighty Thor, and Captain America. We can't say it isn't canon at least.
If you have the Thor skin from the Chapter 2 Season 4 battle pass, you'll also be able to wield both weapons in the battle royale. As we've mentioned, it won't come cheap, but if you have cash to spare, you'll be interested in seeing what the bundle offers.
How To Get Thor Odinson & Mighty Thor?
The only way to unlock both cosmetics is by forking out the V-bucks on the Fortnite in-game shop. Bad news for those waiting on a Thor Cup, as Epic Games did not share any information regarding a possible competitive event that will reward you with the skins.
How Much Does The Gods Of Thunder Pack Cost?
This is one of the most expensive bundles we've seen in quite some time, costing a total of 2,500 V-bucks. We can at least confidently say that if you're a Thor or Marvel fan, this will be money well spent, as it includes two skins with unique styles, harvesting tools, built-in emotes, and more.
All Cosmetics In The Gods Of Thunder Pack
The bundle is jampacked with content, here's a look at everything you can expect to get from it:
Thor Odinson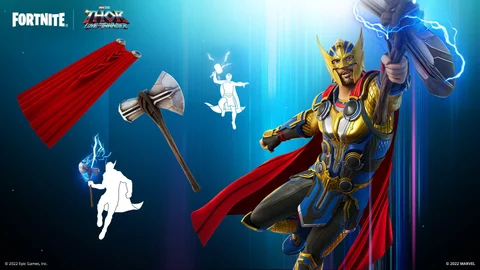 Thor's Cape Back Bling.
Stormbreaker Pickaxe.
Stormbreaker's Flight Glider.
Mighty Thor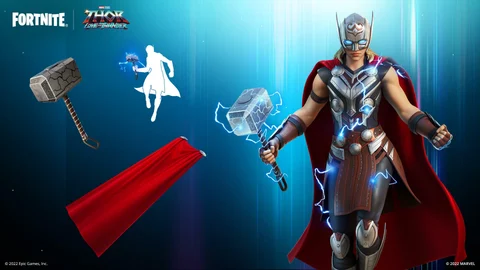 Mighty Thor's Cape Back Bling.
Reformed Mjolnir Pickaxe.
Mjolnir's Flight Glider.
All of the skins deemed worthy can wear both weapons as harvesting tools and gliders. Furthermore, Reformed Mjolnir has an exclusive built-in emote: Bring The Hammer Down. Both skins also have a unique style: Full Charge. It's a reactive effect that will charge up your Thor skins after getting eliminations, the pickaxes will also electrify after hitting weak points.
Finally, the amazing loading screen which you can see at the top of the page seals the bundle. Oh, one more thing: yes, you can unequip the capes for both Thor Odinson and the Mighty Thor, in all honestly, the skins look much better without them!
For more on Fortnite: