The Guardian Shield is a new item in Fortnite that protects you from danger and your opponents, giving you a great advantage. We'll show you what it can do and where you can find it.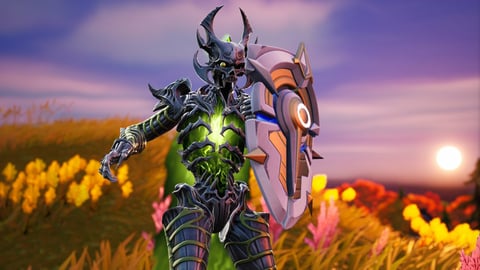 The Guardian Shield was introduced for the first time in the trailer for Chapter 4, Season 1. The item looks incredibly powerful, so it's no surprise that everyone wants it. We'll show you what the shield can do and how to get your hands on it.

How to get the Guardian Shield in Fortnite

Oddly enough, the Guardian Shield is not yet in the game. However, the weekly missions for the coming weeks have already been leaked and in week 5 the shield is part of a challenge. With the quests going live on January 5th, we're confident that the Guardian Shield will appear in-game over the course of the next week.
How to get the item exactly is not yet clear. However, we suspect it is part of Fortnite's normal loot pool and can therefore be found on the ground, in chests, and in supply drops.
As soon as we know more about it, we will of course update this article for you.
How To Use The Guardian Shield
The Guardian Shield in Fortnite protects the wearer and their allies from incoming attacks. Some stats and functions of the item have already been leaked:
It blocks up to 1,000 points of damage.
To activate the shield, press the primary fire button - it starts with 2000% energy, which decreases by one point per second
The weapon's damage is reduced by half when it hits the shield
If the shield is not active, it takes five seconds to regenerate the lost shield
When the shield's energy is completely depleted, it takes 10 seconds to regenerate
The shield can be worn on the body or thrown in front of you as a protective wall
In this video you can see some features of the shield:

Here Is some early gameplay of the upcoming "Guardian Shield".#FortniteParadise #FortniteLeaks #FortniteCreative #Fortnite #FortniteArt #FortnitexPOLO #FortniteFracture #FortniteChapter4Season1 #FortniteChapter4 pic.twitter.com/DOB4ANkvua

— Pvrxyy (Fortnite Leaks & News) (@pvrxyy) December 19, 2022
We'll keep you posted as soon as more is known about Fortnite's new item.