Patch 21.20 has brought many surprises to Fortnite, including the highly anticipated debut of Indiana Jones. You'll need to complete a series of challenges to earn his outfit.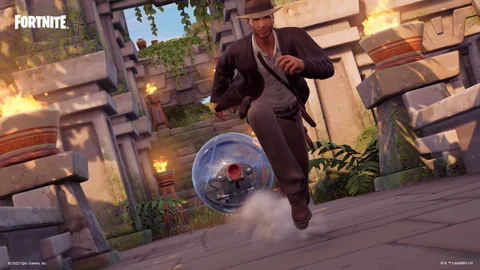 Since it was announced, Indiana Jones became the highlight for many Fortnite fans looking to become the intrepid archeologist themselves. Now, as Chapter 3 Season 3 is well past its first few weeks, Epic Games has given battle pass owners the chance to earn his coveted outfit.
The Fortnite battle pass, which costs 950 V-bucks, offers 10 pages filled with all kinds of goodies, including skins, emotes, back blings, gun wraps, and more. The ultimate reward for it being the Darth Vader skin part of the Star Wars series of cosmetics.
If you're only interested in the Indiana Jones skin, you're in luck, as the grind to get it doesn't require you to complete the entire battle pass; you'll focus on specific challenges to earn your shiny new outfit.
All Fortnite Indiana Jones Challenges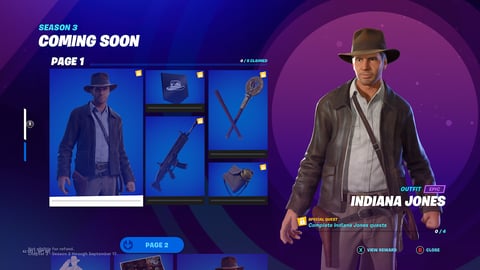 There are a total of 11 challenges split into two pages. If you only want the main Indiana Jones outfit you'll only need to complete four of these, however, if you want to grab the emote, loading screen, glider, and his Temple Explorer style, completing every single one is a must.
Below you'll find a list of every challenge in the Indiana Jones special quests tab and the reward you'll unlock for completing each:
Search chests (5) at Shifty Shafts - Banner Icon.
Use the Grapple Glove to swing off trees (10) - Raider's Relics harvesting tool.
Collect the Durrrburger Relic from The Temple and The Ruins in a single match - Expedition Bag back bling.
Damage opponents while riding in or standing on a vehicle (500) - Rogue Archaeology wrap.
Complete four Indiana Jones quests - Indiana Jones Outfit.

Stash an item of Mythic or Exotic rarity in a tent - Indy's Dustoff emote.

Make Runaway Boulders run for 100 meters in a single match - Indy's Escape spray.

Damage opponents with a pistol (750) - Doctor Jones emoticon.

Finish Top 5 in a match - First Misadventure loading screen.

Find the Secret Door Past the Main Chamber in Shuffled Shrines (1) - Emergency Raft glider.
Complete all Indiana Jones quests - Indiana Jones (Temple Explorer) style.
Some of these are a bit complicated but don't worry about rushing through them, as you have until September 17 to complete them all. As they say, slow and steady wins the race sometimes!
BREAKING: Indiana Jones will be added to the game in Chapter 3 - Season 3!

According to @TaborTimeYT, this collaboration has been in the works for a very long time! pic.twitter.com/DAZ9xwmN6a

— Shiina (@ShiinaBR) April 8, 2022
For more on Fortnite: