Will Armored Core 6: Fires of Rubicon support crossplay? The 6th main installment of the long-running series is here and fans are eager to learn if they can face off against friends and other players. We have the answers for you!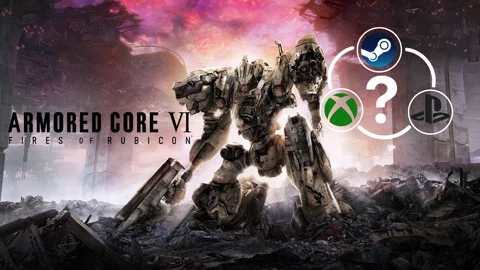 For about two and a half decades, FromSoftware has been making Armored Core. The mecha warfare series had its last game released in 2012. It is great to see such a long-running game franchise being able to shake the rust off and getting a new part.
With the big success of the Souls-franchise during the past decade, Armored Core 6 could easily bring the franchise back to the front and become one of the biggest games of the year.
Armored Core 6 includes some Souls-like mechanics, but the focus lies in the massive boss fights, the agile combat system with aerial fights and an astounding visual quality. There will also be a versus mode included, but does this mean the game offers crossplay?
Armored Core 6 Crossplay Status Is Unclear
FromSoftware hasn't confirmed yet if there will be any crossplay supported even though the game releases on multiple platforms. Since neither Elden Ring nor Dark Souls 3 had cross-platform options, it most likely won't be supported in Armored Core 6 either. But we won't give up our hopes!
It is likely then that Armored Core won't have crossplay support. Although, it would make sense, due to the high demand of the players and the increased sales. Nonetheless, it's not certain.
Releasing on multiple platforms and making crossplay work also takes a good amount of time and effort. After the severe exploits discovered within all three Souls games, FromSoftware and Bandai Namco will evaluate the best course of action and see if crossplay is safe and possible for them.
Armored Core 6 Multiplayer Mode
Yes, Armored Core 6 will feature multiplayer. However, that's the point where we probably should stop comparing the Armored Core franchise with the Souls franchise. Their focus lies in completely different gameplay mechanics and so does their type of multiplayer.
The game's story mode remains a single player experience. But there will be a PVP mode like the ones we have seen in former FromSoftware games, where you can try to compete against other PVP players and see whose mech build reigns supreme on the battlefield.

Armored Core 6: Fires of Rubicon is set to release on August 25 for PC, Windows, PlayStation 4, PlayStation 5, Xbox One and Xbox Series X/S
This article contains affiliate links which are marked with [shopping symbol]. These links can provide a small commission for us under certain conditions. This never affects the products price for you.