With New Game Plus in Armored Core 6, defeating every enemy and finishing every mission doesn't mean the end for your fun in the game. Like in many of FromSoftware's game before, there is even more to discover after the game's official ending. So, in this article we will tell you everything you need to know about the new game plus mode in AC6.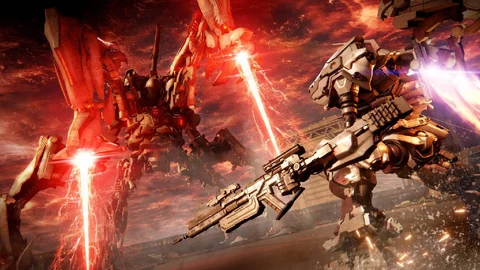 Armored Core 6: Fires Of Rubicon is here and delivers hours upon hours of playtime and exhilarating fun for many players. But as usual many fans are already looking forward to even harder challenges and even more things to do in-game.

Thankfully, Armored Core 6 features New Game Plus. And this is one of the most extensive versions of it that FromSoftware has ever put in one of their games.
In the past, many FromSoftware games featured a special mode, that hardcore fans were able to play, after finishing everything else there is to do in the game. And Armored Core 6 won't be different. So here is everything you need to know about the game plus mode.
Armored Core 6 New Game Plus: Even More Content After Game's Official Ending
Armored Core 6's campaign should last around 20 hours if you're aiming for a straight playthrough. However, New Game Plus will provide players with even more hours, as it adds new mission and other fresh content.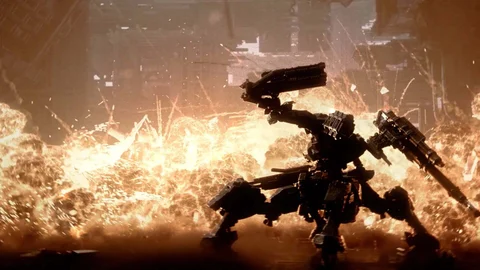 New Game Plus in Armored Core 6 lets you replay the campaign again from the second mission on. But compared to your first playthrough, the second and even the third one will unlock new missions along the way. In these new missions you will be able to make important decisions, which could lead to a different ending sequence, that wasn't there in your first play though.

Or to make it short, the mew game mode plus will bring in:

New Missions (in the second and third playthrough)
New Arena Battles
New Decisions & Endings
More Frame Parts
More Weapon Parts
The only down sight might be, that you have to replay several missions, in which nothing really changes. It's also important to know that the additional game mode won't increase the difficulty level and the enemies won't be stronger compared to the first playthrough.
But, with the wild customization options you have in the game, it's the perfect excuse to go ham and try out many new things in New Game Plus while enjoying some new content along the way

For more Armored Core related content, read: