Assassin's Creed Mirage will see the return of Basim Ibn Ishaq from Valhalla for another adventure as a Master Assassin. The new game is set in 9th Century Baghdad, and it's more inspired by AC1 than any other in the series. When will Assassin's Creed Mirage be released, and what does the gameplay look like? We have the answers for you below!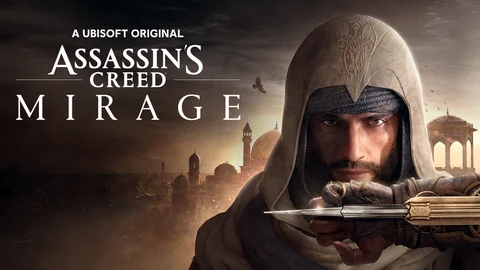 Few franchises have established themselves as genre-defining games like Assassin's Creed did. It's a staple of the gaming industry, as more than twelve mainline entries and seventeen spin-offs have been created in the name of Assassin's Creed.
Another entry into this franchise is arriving with Basim Ibn Ishaq from Valhalla, as an unexpected rift occurs between the Assassins and Templars. This upcoming entry to the long-running series is named Assassin's Creed Mirage, formerly known under the code name Assassin's Creed Rift. This has now been officially confirmed by Ubisoft. It plans to reset the franchise with a breath of fresh air and return to the roots of the series. In this article, we summarize everything we know about AC Mirage, including details on gameplay, story and the release date.

Assassin's Creed Mirage Release Date
Assassin's Creed Mirage will be released on Thursday, October 12, 2023. Ubisoft announced the release date during the PlayStation Showcase in May. We don't expect any delays, in fact, you can pre-order AC Mirage already.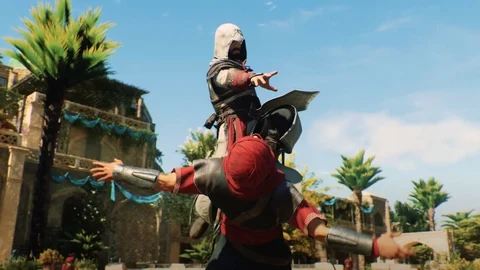 Assassin's Creed Mirage Gameplay Trailer: Back To The Roots
The Assassin's Creed Mirage gameplay trailer was revealed at the PlayStation Showcase, and it confirms previous rumors that suggested this title would return the franchise to its roots. That is to say, Assassin's Creed Mirage will be more action adventure, and less open world RPG.
Check out the gameplay for yourself:
We actually knew that Assassin's Creed Mirage would take this gameplay direction a few months back, thanks to a report by Jason Schreier. And he was absolutely right.
As you can see in the gameplay trailer, our new character has nothing more than the toolset we had in Assassin's Creed 1. The focus is once again on finding and assassinating targets. We can choose how to execute the plan, but the decision is between stealth and parkour or bribery, rather than using any wild new contraptions. And RPG elements have been removed completely.
AC Mirage Setting & Story: One City Instead Of A Huge World
Assassin's Creed Mirage will be set in 9th Century Baghdad, the capital of the Abbasid Caliphate and current-day Iraq. We will get a single city as a setting, rather than a ton of different half-baked locations, and it looks gorgeous: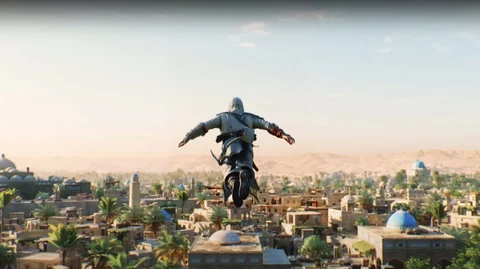 The city will be split into five districts: Karkh, The Round City, Science District, Trade District, Military District. These will all have unique characteristics and will be freely explorable from an early point in the game. Not many more details have been revealed, but we know that The Round City will include the Caliphate's palace, and the science district will host places like the so-called House of Wisdom. As soon as we know more, we will update this article.
Main Character: Basim Ibn Ishaq
In AC Mirage, you will play as Basim Ibn Ishaq. Anyone familiar with Assassin's Creed Valhalla will remember this character as the reincarnated host of Loki, and we're thoroughly excited at the thought of Ubisoft reusing Basim Ibn Ishaq in another mainline entry of Assassin's Creed. We don't know much about Basim's story in Mirage yet, but it is suggested that it will show his journey to joining the Hidden Ones.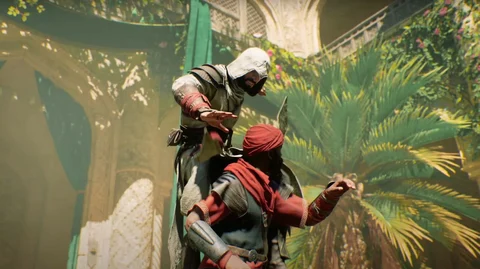 As you can see from the above image, the outfit that Basim Ibn Ishaq wears is closer to Altair's (from AC1) than any other AC protagonist.

Platforms
Assassin's Creed Mirage will launch for all common platforms, meaning PS4, PS5, Xbox One, Xbox Series X|S and PC. That's all we know about Assassin's Creed Mirage so far. We will update this article as soon as we know more about the game.
This article contains affiliate links which are marked with [shopping symbol]. These links can provide a small commission for us under certain conditions. This never affects the products price for you.