Avatar: Frontiers of Pandora has been ignored for a while by publisher and developer Ubisoft. But the game is still set to come out this year, as we just learned from a new interview.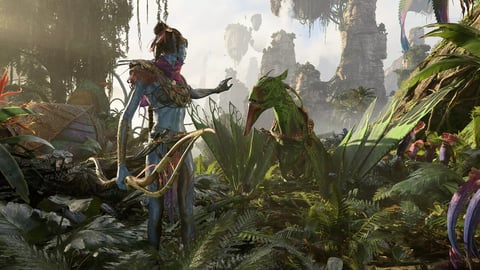 Remember Avatar: Frontiers of Pandora? Ubisoft were supposedly making an AAA action game based on everyone's favorite group of blue men, but we haven't heard much of anything since the title was announced in 2021. Now, the game's developers have given a new interview to shed light on what is taking them so damn long.
Avatar: Frontiers Of Pandora Devs Explain Long Wait
In an interview with Gamesradar, creative director Magnus Jansén talked about the big ambitions that the team at Massive Entertainment, previously known for making The Division, has for gaming's first big foray into the world of Avatar. Their lofty goals and ideas are also responsible for the game taking so long to develop:
"One of the most exciting challenges has been to build a living and reactive world inhabited by unique creatures and new characters – a never-before-seen part of Pandora that players will explore while playing as Na'vi. The time has been spent on building a brand new part of Pandora and creating the tools needed to bring it to life on the latest generation of console and PC hardware.

We haven't seen any gameplay of Avatar: Frontiers of Pandora yet, but we're excited to see how their ambitions are realized in game. A big, fun open world game set in Pandora sounds amazing. Let's hope Massive and Ubisoft can deliver!
The game is scheduled to release during Ubisoft's next financial year, so at some point between April 1, 2023, and March 31, 2024.