Xbox Game Pass gets better and better, and now Ubisoft looks set to partner with them. Rumors suggest that Ubisoft+ will be coming to the subscription service, in the same way EA Play currently is.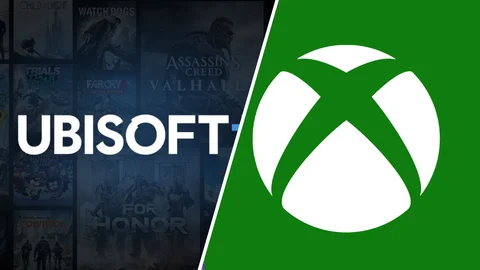 The obvious has happened. After leaving Steam Ubisoft has seen a massive decline in PC sales, and now they've got to get into bed with another giant PC marketplace. Well, maybe marketplace isn't the right word, but at least the Xbox Game Pass might get some users to start playing their games. And it's years ahead of the terribly buggy Ubisoft Connect...

Ubisoft+ To Join Xbox Game Pass
As first reported by Microsoft insider
@ALumia_Italia
,
Ubisoft+ will be coming to Game Pass.
This leaker has been focused on sharing future Game Pass additions, and they've been right multiple times in the past.
Here's how they shared the news:
It's not as obvious as just stating the news, but Twitter leakers love to be a little bit cryptic.
And when it comes to Game Pass, leaks usually turn out to be correct
. They were right about
Family Sharing
and
Death Stranding
coming to the Game Pass, for instance.
Although, this won't be free or included in the base price of Game Pass we assume. We expect it to work like EA Play, which is kind of an add-on you can get alongside the Game Pass, for a reduced rate. And then with Ubisoft+ you get access to their games, and further deals on in-game items.
List of Games For Ubisoft+ Leaked
For any and all Ubisoft fans, get ready, because the list of games coming to Xbox Gamepass with Ubisoft+ has leaked online. It's been rumoured that this would happen soon, especially with Ubisoft games being given out for free.
Well, now you know which games you can get with Xbox Gamepass and Ubisoft+ and hold on tight, because this is a long list. A grand total of 64 games have been found and posted on True Achievements.
So, if you've wanted to play Far Cry, The Division or Rainbow Six, then this is your chance, because with the Ubisoft+ addition you'll always get the top edition of any game, along with the expansions. You're going to get a lot for your money.
Games Leaked To Be on Ubisoft+
Assassin's Creed Chronicles: China
Assassin's Creed Chronicles: India
Assassin's Creed Chronicles: Russia
Assassin's Creed III Remastered
Assassin's Creed IV: Black Flag
Assassin's Creed Odyssey
Assassin's Creed Origins
Assassin's Creed Rogue Remastered
Assassin's Creed Syndicate
Assassin's Creed The Ezio Collection
Assassin's Creed Unity
Assassin's Creed Valhalla
Battleship
Boggle
Child of Light
Family Feud
Far Cry 3 Blood Dragon Classic Edition
Far Cry 3 Classic Edition
Far Cry 4
Far Cry 5
Far Cry 6
Far Cry New Dawn
Far Cry Primal
Fighter Within
For Honor
Grow Up
Hungry Shark World
Immortals Fenyx Rising
Jeopardy!
Monopoly Madness
Monopoly Plus
OddBallers
Rabbids Invasion: The Interactive TV Show
Rabbids: Party of Legends
Rayman Legends
Riders Republic
RISK
Risk: Urban Assault
Scott Pilgrim vs the World: The Game – Complete Edition
Scrabble
Shape Up
South Park: The Fractured but Whole
South Park: The Stick of Truth
Steep
The Crew
The Crew 2
Tom Clancy's Ghost Recon Breakpoint
Tom Clancy's Ghost Recon Wildlands
Tom Clancy's Rainbow Six Extraction
Tom Clancy's The Division
Tom Clancy's The Division 2
Trackmania Turbo
Transference
Trials Fusion
Trials of the Blood Dragon
Trials Rising
Trivial Pursuit Live!
Trivial Pursuit Live! 2
Uno
Watch Dogs: Legion
Watch_Dogs
Watch_Dogs 2
Wheel of Fortune
ZOMBI
That is a long list, eh? Unfortunately, we don't know about the exact pricing yet, but we do think this won't be a million bucks. Are you excited for Ubisoft+ and the Xbox Game Pass combination?